Jude Law is 'The Young Pope' on HBO
Category:
Television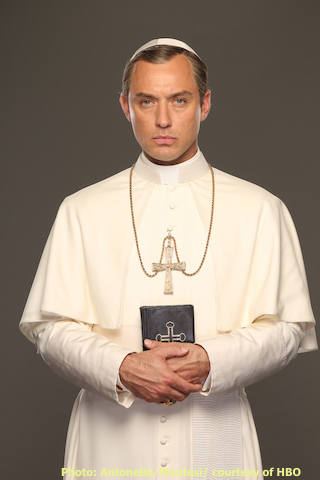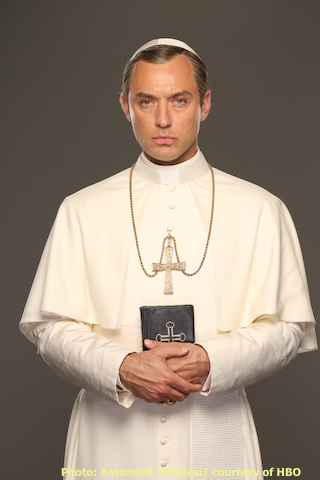 The new HBO series The Young Pope stars Jude Law as the newly elected head of the Catholic Church. He is young and American, which in itself is almost an impossible choice for the cardinals to make. This is an interesting, offbeat, satire about a Pope who has strange ideas and different ways of carrying out his duties than any other Pope in the past.
When he spoke to members of the media, Law confided, "I wasn't brought up in a particularly religious household, but I've always been curious about faith and one's personal relationship with faith. And I suppose it encouraged me to question and look a that a little more."
He also said he never thought he would ever play a Pope. "If you asked me two years ago, I would have laughed at the idea."
Law was eager to work with director Paolo Sorrentino. "One of the reasons I love Paolo's work," he said, "is that he can take epic themes and operatic scale and make it very human. And when I was preparing for this part, I initially started, probably understandably, thinking, 'Gosh, I need to educate myself on papal history, on Catholic history, on life in the Vatican.' But I didn't really find any answers as to who this character was. And Paolo kept reminding me that really I had to concentrate on who Lenny Belardo was, Lenny being the man."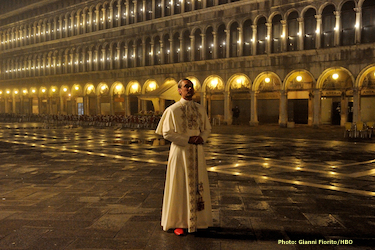 Lenny is a lost soul. He grew up in an orphanage under the care of Sister Mary (Diane Keaton). Once he is elected Pope, he brings Sister Mary to the Vatican to help him. Lenny, now Pope Pius XIII, is his own man, however. "The vulnerabilities are there and, I hope, slowly unpeeled if you stick with the ten hours," Law stated.
There is something strangely appealing about his offbeat Pope. "He's full of contradictions," Law acknowledged, "which I believe we all are, but he's particularly contradictory, but he doesn't lie. He's a man of conviction from his own standpoint. And, you know, he's trying to understand his heart. He's trying to understand his faith, which I think you'll see is ultimately what he's always been doing, but now the spotlight's really on him. And I think he imagined, getting the top job, that he would have a direct line to the person who's guided him and seen him through a lonely existence. And that's God. And the line is busy, and so he has to work out how to answer these questions for himself."
The Vatican declined the request for the show to be filmed on location there. The Vatican gardens were filmed on location in areas of Rome. They built the Sistine Chapel in the Cinecitta studios in Rome, and they used a museum as the Papal apartment. Parts of the series were filmed in South Africa and the USA. For authenticity, they reproduced 30 works of art.
While this is definitely a strange story with very odd and often self-indulgent characters, The Young Pope is outlandish and fun to watch. It's not for kids, though. Adults only.
About the Author
Francine Brokaw has been covering all aspects of the entertainment industry for over 20 years. She also writes about products and travel. She has been published in national and international newspapers and magazines as well as Internet websites. She has written her own book, Beyond the Red Carpet The World of Entertainment Journalists, from Sourced Media Books.
Follow her on Twitter