'High Strung Free Dance' Blu-ray GIVEAWAY
Category:
Giveaways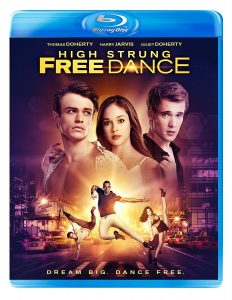 High Strung Free Dance tells the story of Zander Raines (Thomas Doherty), a dazzling and tempestuous young choreographer who gives the break of a lifetime to two hopeful artists when he casts a stunning contemporary dancer, Barlow (Juliet Doherty) and innovative pianist, Charlie (Harry Jarvis) in New York's most-anticipated new Broadway show: Free Dance.  But the move throws off the show's delicate creative balance when Charlie falls hard for Barlow while Zander embraces her as his muse.
The film brings together groundbreaking original music with an expansive mix of choreography from Emmy award winner Tyce Diorio (So You Think You Can Dance) alongside 80 of the world's most thrilling and original dancers.
We have some Blu-rays to giveaway.
To be eligible to win a copy of High Strung Free Dance, email us at [email protected] with "Free Dance Giveaway" in the title. Please supply your name, address, phone number and email address (so we can let you know if you are a winner). Note: only USA and Canada entries please.
The deadline for this giveaway is February 14, 2020.