'Lost in Florence' – Movie Review
Category:
Movies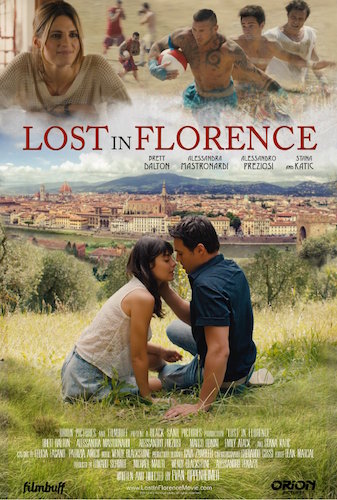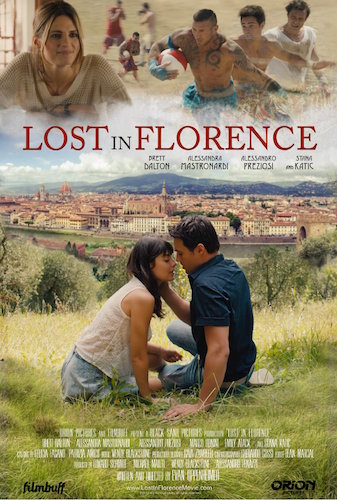 When an American man takes his American girlfriend to Florence, Italy to propose, he doesn't get the response he was hoping for. On the contrary, after she declines, Eric's (Brett Dalton) life takes a completely different path as he becomes more involved with the people and places of Florence. Lost in Florence is a sweet little film that takes on the beauty and culture of this amazing city.
After his girlfriend Colleen (Emily Atack) leaves him, Eric is devastated. His cousin (Stana Katic) and her Italian husband Gianni (Marco Bonini) help him to recover his emotional stability. Gianni introduces him to the ancient sport of Calcio Storico and Eric jumps right in. After all, he was an aspiring NFL player and loves sports of all kinds. This sport, however, has no rules.
"Calcio Storico is a game that dates back almost 100 years," says producer Wendy Blackstone. "Originally, it was played by the Medicis, the Popes, and other members of the nobility, on the frozen Arno River during the winter. The ball was designed by none other than Leonardo da Vinci. The game was also used as a form of training to keep soldiers fit and disciplined It is actually the predecessor of soccer and rugby."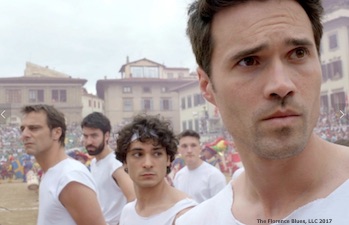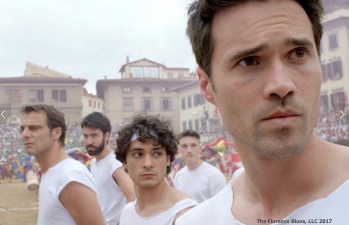 These days the game is played in June, the time of year tourists flood into Florence. Writer/director Evan Oppenheimer was fascinated by the game and wound up making this movie that intertwines the game with the personal story of the floundering leading character, Eric.
Eric starts seeing Gianni's sister Stefania (Alessandra Mastronardi), who happens to be his team captain's girlfriend. This is a concern for Eric, but not enough to stop him from continuing his relationship with Stefania, while keeping it a secret from Paolo (Alessandro Preziosi), his captain and good friend.
The entire movie was filmed in Italy and the scenery is amazing. It's like a travel film, with gorgeous backdrops at every turn.
Oppenheimer explained about the title, "I think we all feel lost in a new country – a new culture – and Eric's situation is compounded by the fact that he is lost in his own life. As the film shows, that can change in a heartbeat with love, confidence, and a sense of purpose. Eric finds all of these things, paving the way for a sequel: Found in Florence!"
Lost in Florence is a not a romantic comedy. It's an interesting story that brings several elements into one film. There is the love aspect, and the beauty of Florence. But there is also the sport and the aspect of brotherhood. It's not the greatest movie but it has some entertaining aspects. And, it is a good advertisement for the splendor of Florence. The movie opens in theaters January 27, 2017.
About the Reviewer
Francine Brokaw writes about products, travel, and entertainment. She has been published in national and international newspapers and magazines as well as Internet websites. She has written her own book, Beyond the Red Carpet The World of Entertainment Journalists, from Sourced Media Books.
Follow her on Twitter