Mr. Peabody and the Mermaid on DVD
Category:
Blu-ray's and DVD's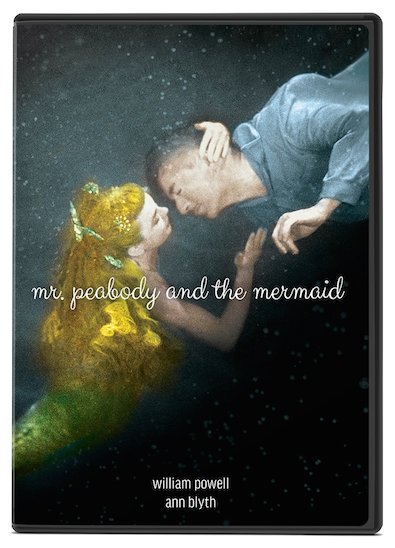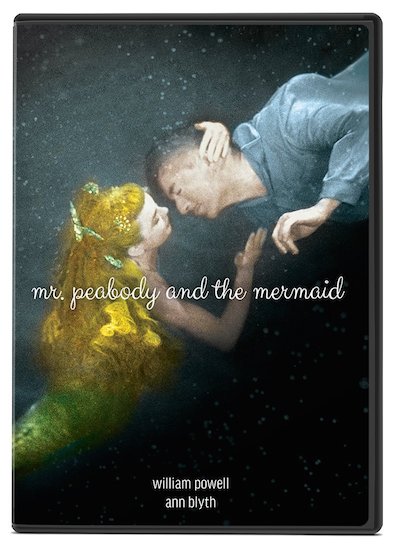 William Powell stars in Mr. Peabody and the Mermaid, a romantic fantasy about middle age. This 1948 black and white movie has a large fan base, however to today's viewers it might seem too corny.
Arthur Peabody (Powell) and his wife (Irene Hervey) are on vacation in the Caribbean. He's about to turn 50 and that number is weighing heavily on his mind.
When Peabody hears singing coming from a nearby island, he follows the sound and discovers a beautiful hair comb on a rock. But no one is there. Someone definitely left it on the rock at some point.
Then, when he is trolling for fish, and lamenting his age, he hooks the tail of a mermaid (Ann Blyth). Peabody brings her back to the villa where he and his wife are staying and plops her in their bathtub. Of course he can't keep a mermaid in the bathtub so he moves her to the pond on the property.
Peabody names the mermaid Lenore and although she cannot communicate with language, he finds another way to convey his feelings to her – with a kiss. Lenore loves kisses and can't get enough! Peabody falls desperately in love with the mermaid. She is very much like a child – jealous, playful, and curious. And she had no modesty, so Peabody goes shopping for "half" a bathing suit, which causes rumors in town.
When his wife disappears, Peabody is suspected of murder, until she is discovered back at their home in Boston. With his bathing suit adventure and the fact that another woman has been pursuing him, the police think the worst of the poor man.
Through all of this, Peabody maintains his devotion to Lenore. She has no concept of age and does not know he just hit the big 5-0. This is appealing to the middle age man.
The entire story is told to a psychiatrist. In the end, it is up to the viewers to decide whether Peabody just had a mid-life fantasy or whether it was reality.
This is not Tom Hanks and Darrell Hannah's Splash. The acting and sets date the film. Nevertheless, the movie does have its ardent admirers.
Mr. Peabody and the Mermaid is not rated, however it is tame enough for all audiences. The movie is also available on Blu-ray.
About the Author
Francine Brokaw has been covering all aspects of the entertainment business for 20 years. She also writes about technology and has been a travel writer for the past 12 years. She has been published in national and international newspapers and magazines as well as internet websites. She has written her own book, Beyond the Red Carpet The World of Entertainment Journalists, from Sourced Media Books.
Follow her on Twitter
Like her on Facebook