New Fantasyland at Walt Disney World
Category:
Travel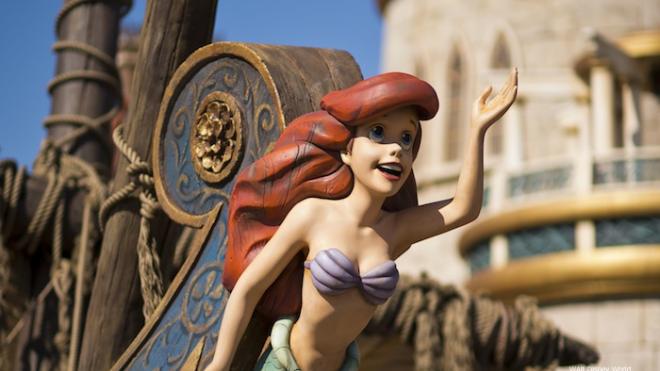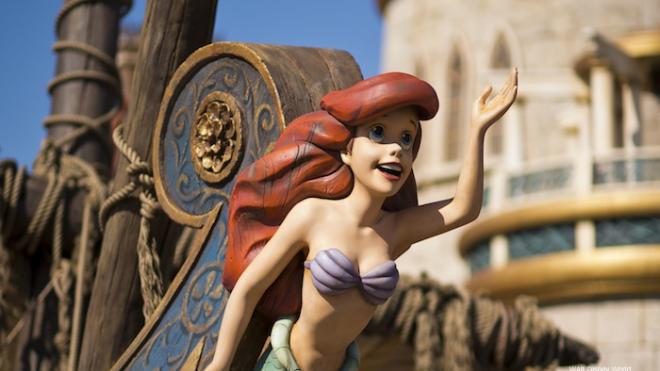 What's new at Walt Disney World in Orlando? Plenty. For instance, in the Magic Kingdom, the New Fantasyland has been enlarged to over twice the size of the original land. With the additions the folks at Disney have created a theme park with more interactive experiences. The great minds of the Imagineers have done it again, filling New Fantasyland with plenty of new and unexpected delights, not the least of which are two new castles.
While Cinderella's big iconic castle will always be the focal point of the Magic Kingdom, there are now two smaller castles to enjoy. And what little kid – or big kid for that matter – doesn't love a castle?
Two newly created areas make up New Fantasyland. Each one of these new grounds are filled with plenty of fun, food, and classic characters with memorable stories. Plus, parents and kids alike will enjoy the various shopping experiences.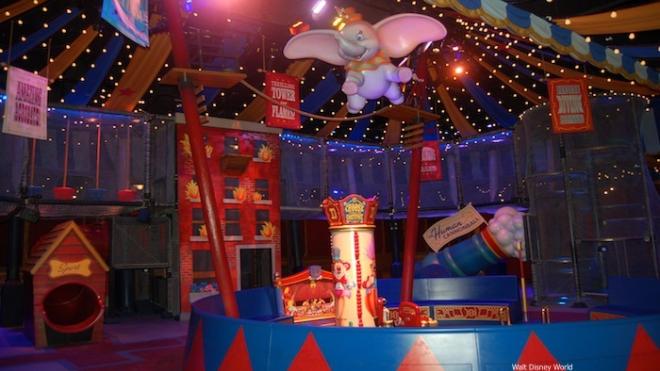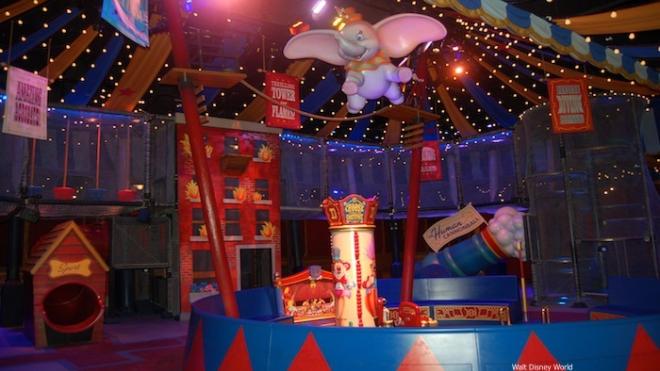 Storybook Circus Area
Storybook Circus is the other new area of the land. This is yet another imaginative section where guests feel like they have stepped into the story of Casey Jr. and where they can not only ride some fun rides, but also have fun playing and exploring.
If you have kids and have been to Disneyland or WDW, you know the line for "Dumbo" is long and tedious. Well, not any more. That boring wait is a thing of the past. First of all, there are now two Dumbo's. Yep, double Dumbo's make the wait time half as long. But instead of simply standing in a line, guests are given a pager and can wait it out in one of the circus tents, which provides plenty of shade on sunny summer days, as well as activities and a play area for kids. Then when your pager goes off, you simply gather the kids and report to your assigned Dumbo. What a relief to be out of that long Dumbo line.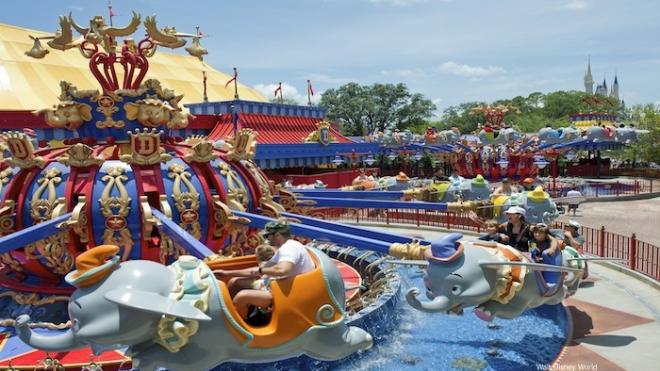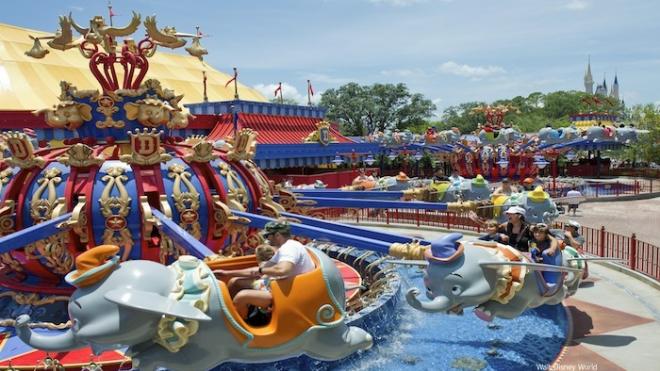 And Goofy's "Barnstormer" rollercoaster takes guests on a twisty-turny high-flying voyage with the Great Goofini. If you're a daredevil, you will want to check this out.
If you think all of this is amazing, just wait. There is a "Seven Dwarfs Mine Train" ride opening in 2014, which will complete the expansion of the New Fantasyland. Hi ho, hi ho.
The Enchanted Forest Area
Ariel and Prince Eric's castle is resplendent where guests enter a grotto to meet Ariel in a fun little meet and greet venue. This takes the usual park sightings (and photo ops) to another level.
And there is a new ride, Ariel's Undersea Adventure, which takes guests on an exploration of Ariel's story. The Little Mermaid is a beloved tale about one rebellious red-haired mermaid who wants to be a human. In this ride, guests discover the story of how Ariel and Eric united and fell in love. Ah, fairy tales are great, don't you think? This ride has been a popular one at Disney's California Adventure in Anaheim, California, and was just recently added to the New Fantasyland in Florida.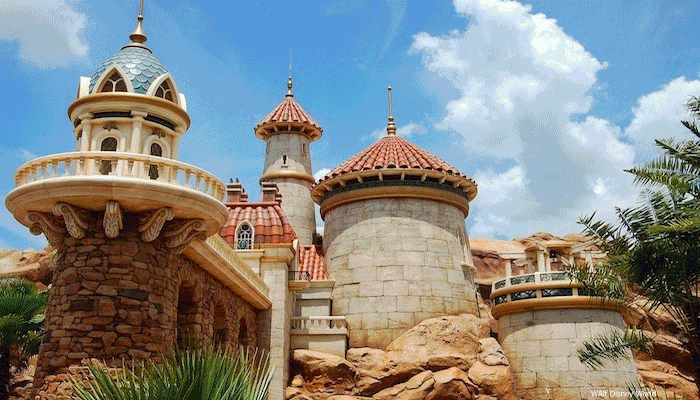 The other new castle belongs to the Beast. The Beauty and the Beast section is filled with plenty to see and do. For instance, there is an exciting interactive experience – Enchanted Tales with Belle that guests enter through Belle's cottage, which in itself is a magical experience. While it is a little difficult to explain, let's just say that guests have the opportunity to play a part in Belle's recounting of her story of how she and the Beast came to be the couple they are. Do you want to play the part of Mrs. Potts? Chip? The ottoman? There are plenty of parts to play in this imaginative retelling of Beauty and the Beast. All of the kids in my group were excited to be part of the story and meet Belle in person.
Belle's village incorporated into the new expansion, complete with a statue in the center of town dedicated to non other than Gaston. Who else would erect a larger than life sized statue of himself?
Gaston's Tavern serves up a wicked potion that you have to taste. "LeFoe's Brew" is delicious. It is a special concoction of frozen apple juice and toasted marshmallows. Don't ask me how they make it. There is no way I could figure it out. But it is tasty and cold. It'll definitely whet your whistle on a hot day. Just be careful of brain freeze. This stuff is cold!
The piece de resistance in this part of the New Fantasyland is the Be Out Guest Restaurant. This coveted new restaurant seats 550 for lunch and 350 for dinner, however the waiting list for dinner reservations is currently about 180 days! Lunch requires no reservations, although I recommend arriving early as the line gets long and the wait could be 45 minutes or so. What makes this place so sought after? That's easy. It's the food and the atmosphere.
Ordering is fun and easy, and is done via a computer screen when you enter. Then you are given a rose that you take with you to your seat. When your food is ready, magic carts find your location and you are served. How cool is that?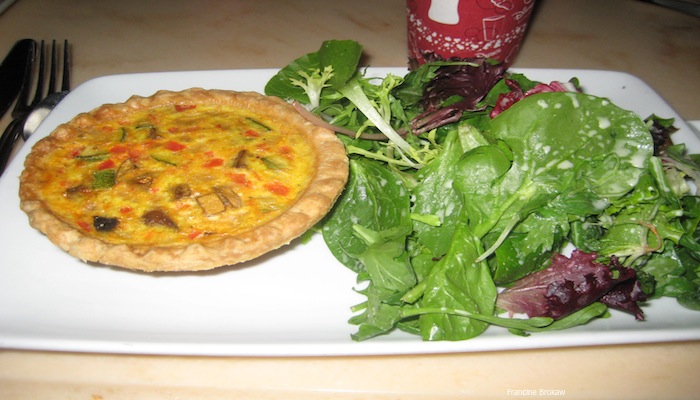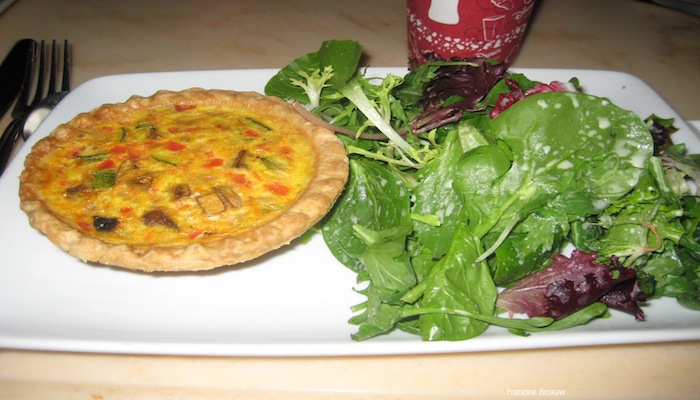 The food is "healthy but flavorful," Chef Richard explained to me. They have prepared a healthier menu than a typical park restaurant with plenty of options. And for us vegetarians, there are some great choices. They even have a vegetarian French Onion Soup. (After all, Belle's story takes place in France.) Take it from me, I will be going back there when I return to WDW.
The feature of this place that is the most impressive is the restaurant itself. It is like stepping into the movie. If they had built a set for the film instead of creating it on a computer, this would be the set. There are three ballrooms in which to sit and enjoy your meal. At the center of "The Rose room" is a life size music box of Belle and the Beast. The "Main Ballroom" is spectacular, with "snow" falling outside the windows and the feeling of being in the actual castle everywhere you turn. You can imagine Belle and the Beast dancing in this room. And the "Forbidden West Wing," dark though it may be, is amazing. It is here where the clawed portrait of the Beast hangs and where the rose sits, every so often dropping a petal. These rooms are more than amazing. If Beauty and the Beast is among your favorite films, this place is a must-do!
To say that the Disney Imagineers have outdone themselves is an understatement. New Fantasyland is filled with many things to delight guests of all ages; I have only scratched the surface of the magical and memorable aspects. There are plenty of hidden – and not so hidden – treasures. New Fantasyland is nothing short of magical.
About the Author
Francine Brokaw has been covering all aspects of the entertainment business for 20 years. She also writes about technology and has been a travel writer for the past 12 years. She has been published in national and international newspapers and magazines as well as internet websites. She has written her own book, Beyond the Red Carpet The World of Entertainment Journalists, from Sourced Media Books.
Follow her on Twitter
Like her on Facebook