Peg + Cat on PBS Kids
Category:
Television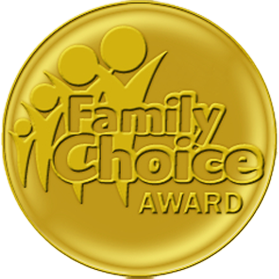 Peg + Cat is the newest PBS Kids show for preschoolers. Filled with cute songs, funny one-liners, and using math as the foundation to solve problems, Peg + Cat is a fun and entertaining way for kids to learn about math and numbers.
Peg is a cute little girl who sometimes "freaks out " when confronting a situation, like most little kids. Her cat helps her to get the problems solved and along the way there is a lot of fun, music, and cute dialogue.
In each of the episodes, the adorable duo has to use math skills to get a problem solved. As Lesli Rotenberg, General Manager of Children's Programming at PBS, explained, "In addition to teaching specific math skills, the series models critical 21st century skills, like resilience, collaboration, and perseverance. Peg and Cat have a knack for stumbling into messy situations desperately in need of solutions."

Not only does the show enforce math skills, little Peg is an inspiring character and role model for young girls. "Unlike the two-dimensional female characters we often see in children's television, Peg is a complex character who real kids can identify with. Like any preschooler, she has moments of totally freaking out, and then figures out a way to deal with problems work with others to solve them," Rotenberg said.
According to Rotenberg, "Research shows that girls start to doubt their own abilities to succeed in math as early as second grade, and they're less likely to explore careers in math. Well, we aim to change all that with Peg."
The songs are peppy and enjoyable and play a big part in the show. Every episode ends with a musical number that features a math skill or principle. The songs are catchy, making it a fun feature in the show and another way math is related to viewers — without them even knowing they are learning.
Peg + Cat is from the Fred Rogers Company, and we all remember how much we learned from Mr. Rogers Neighborhood. Peg + Cat is more of a problem solving show than an actual math show, but Peg uses math to help solve the problems she encounters. As Paul Siefken, the Vice President of Broadcast and Digital Media at the Fred Rogers Company, explained, "The Fred Rogers Company's been known for social-emotional development with children. And when you think about problem solving, I dare anybody to come up with a problem, no matter how academic, that didn't involve emotions. And that's sort of the element of this, is Peg and Cat come up with problems that they have to solve, and the emotions that come with it."
The show is a fun, upbeat, enjoyable series with a relatable character in Peg. It is a show parents can watch with their kids.
The Department of Education along with the Corporation for Public Broadcasting provides the funding for Peg + Cat. Rotenberg explained, "Sixty percent of our nation's fourth graders are not meeting math proficiency standards. And this issue is even more pronounced in low-income communities." With little Peg and her cat Cat, along with several other characters, young viewers learn how to solve problems using math principles, and get some fun, musical, and funny lessons along the way.
Peg + Cat premiers Monday, October 7, 2013 on PBS. And make sure to check out the Peg + Cat website at www.pbskids.org/peg for fun activities and more about Peg and Cat. It's a great feeling to say, along with Peg and Cat, "Problem solved!"
About the Author
Francine Brokaw has been covering all aspects of the entertainment business for 20 years. She also writes about technology and has been a travel writer for the past 12 years. She has been published in national and international newspapers and magazines as well as Internet websites. She has written her own book, Beyond the Red Carpet: The World of Entertainment Journalists, from Sourced Media Books.
Follow her on Twitter
Like her on Facebook