The Apple Tree & The Honey Bee CD GIVEAWAY
Category:
Giveaways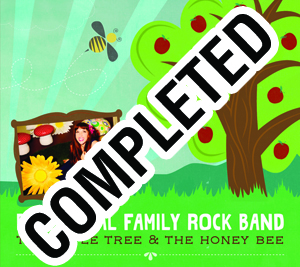 The Apple Tree & The Honey Bee leads off with "Dancing Bear," a rocking, good-times tune with a great dance beat, which features Bari Koral "trading fours" with Dred Scott's excellent bass guitar work. Bari wrote "Big Truck" à la Johnny Cash, and Dan Cohen's twangy guitars combine with Bari's impressive country vocals to give the song an authentic "on the road" feel. Shifting gears with 18-wheel precision, Bari turns the corner on the next song, "Birthday," a poppy anthem of love and security. "Sisters & Brothers" follows. A sing-along favorite among the kids in Bari's classes, it's also a centerpiece at Bari's live shows. Other highlights include the New Orleans flavor of "Roller Coaster," spiced with vocal "whees" that are sure to delight, some mighty fine banjo pickin' on "Yes & No," and the humorous, two-beat "Back to the Farm," which is guaranteed to get kids moving. (Bari notes that "Back to the Farm" and "Dancing Bear" lend themselves especially well to kids' yoga classes.) The album's "good-bye song," "Give A Hug," brings The Apple Tree & The Honey Bee to a sweet conclusion.
BARI KORAL FAMILY ROCK BAND IN PERFORMANCE
Highlights – Summer 2014
| | | |
| --- | --- | --- |
| 15-Jun | Hard Rock Café | Philadelphia, PA |
| 21-Jun | Eric Carle Museum of Picture Book Art | Amherst, MA |
| 17-Jul | Madison Square Kids Series at Madison Square Park | NYC |
| 30-Jul | Newport Festival Family Concert | Newport, RI |
| Sept. 21 | Monterey Jazz Festival | Monterey, CA |
We have some CDs to giveaway. To be eligible to win a copy of The Apple Tree & The Honey Bee CD, email us at [email protected] with "Apple Tree Giveaway" in the title. Please supply your name, address, phone number and email address (so we can let you know if you are a winner).
The deadline for this giveaway is July 4, 2014.