The Wish Twister Book GIVEAWAY
Author: Devi Anderson Anton
Category:
Giveaways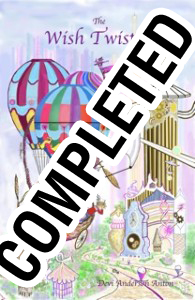 Finn Grant just turned 11, is hassled by bullies and wants to be a great detective. He rushes home from school to play his new Xbox game, Haunted Holmes, when a birthday card in his room shows a strange land, a freaky eye and an urgent plea for help. Investigating, Finn taps a painted door, and he's zapped into the card . . . and another world. A super sleuth needs his help to save both their worlds, and Finn is off on his first case to solve the mystery of the missing Wishalizer machine before the thief destroys the universe. Up against a bandit with limitless power, Finn must find the courage and know-how to solve the unsolvable. How will he unravel the riddle before catastrophes spread beyond Capriliya into his own universe?
We have some copies of this great children's book to giveaway.
To be eligible to win a copy of The Wish Twister, email us at [email protected] with "Wish Twister Giveaway" in the title. Please supply your name, address, phone number and email address (so we can let you know if you are a winner).
The deadline for this giveaway is October 21 2014.
About the Author
From an early age, Devi Anderson Anton has created and illustrated stories. She studied drawing, design and painting, then earned her Bachelor of Arts degree in English literature from the University of California, Los Angeles. After freelancing, she landed her first full-time artist position and quickly became art director for the periodicals The Rangefinder and Photo Lab Management. Utilizing her editorial skills, she became the senior editor for a dog fanciers' magazine. She's a member of the Society of Children's Book Writers and Illustrators, Mystery Writers of America and Southwest Manuscripters. Her adult mystery, Shadow Trap, is available on Amazon, and she's currently at work on her next children's book.