Daniel Tiger Toys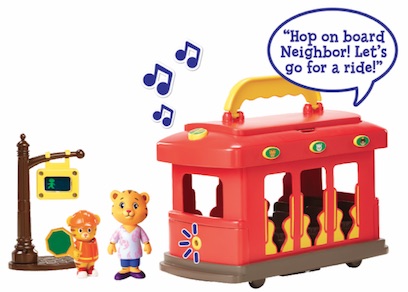 It's a beautiful day in the neighborhood with Daniel Tiger and his family and friends. This celebrated PBS Kids series for preschoolers, Daniel Tiger's Neighborhood, has garnered a lot of praise and won the Television Critics Association 2016 award for best children's program.
The Deluxe Electronic Trolley is a fun way for kids to "play" in the neighborhood with Daniel and his mom. The motorized trolley lights up and has two songs as well as 12 phrases from the characters in the show. It also emits real trolley sounds.
Push the top left button and the headlights turn on and the trolley song plays. Press the tiger button and Daniel asks, "Do you want to take a ride on trolley with me?" Press it again and he says, "It's a beautiful day in the neighborhood." There are more sayings from Daniel and when the other buttons are pushed there are sayings from those characters as well. It's a fun-filled trolley, especially when the top left button is pressed. It's then when the trolley sounds come on with the headlights. How cool is that?
Also included in this set is a traffic stop so kids can obey the rules. It's also a good way to help them understand when it's safe to walk (when the green walking diagram is visible).
Push a button and the trolley rolls ahead. A handle on top makes it easy to carry and a fun set to take when visiting grandma or going out to the park to play.
This set comes with the two figures however many of the other characters from the show are available to purchase in separate sets to add to this trolley. The Deluxe Electronic Trolley requires 3 AA batteries, which are included in the box. This set brings all the fun and imagination of Daniel Tiger's Neighborhood to your own house. This trolley set is designed for ages 3+ and lists for $29.99.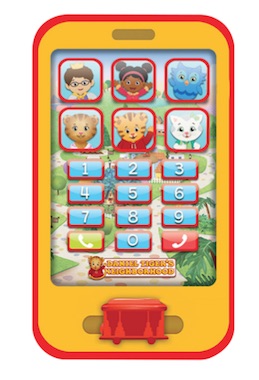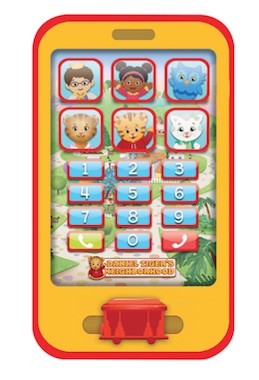 There's even more fun with the Daniel Tiger Phone. It looks just like a smartphone only is much easier to use! You won't have to buy a "Smartphone for Dummies" book to use this one!
There is an on/off sliding button on the side. The phone includes real phone sounds and when the little trolley is slid from one side to the other, it jingles. The front of the phone has a keyboard as well as six photo buttons with various characters. When a number button is pressed, the number is   said allowed so kids can easily learn their numbers from zero to nine.
When a character button is pressed the characters talk. There are 11 phrases in all, including Daniel saying, "Hi neighbor, it's me. Daniel Tiger." And when the two little phone icon buttons are pressed the Daniel Tiger song plays.
The Daniel Tiger Phone is for ages 2+ and lists for $9.99.
Daniel Tiger is a beloved character and his father entertained generations of viewers on the original Mister Rogers' Neighborhood. Daniel is a sweet little guy with a lot of heart. With these toys kids can let their imaginations soar along with Daniel and his friends in the neighborhood.
About the Reviewer
Francine Brokaw writes about products, travel, and entertainment. She has been published in national and international newspapers and magazines as well as Internet websites. She has written her own book, Beyond the Red Carpet The World of Entertainment Journalists, from Sourced Media Books.
Follow her on Twitter