Mega Maui from JAKKS Pacific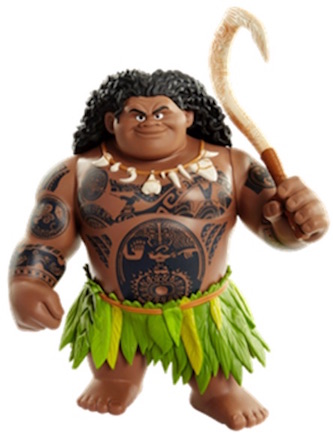 With the popularity of the movie Moana, much of the attention has been given to the newest Disney princess. However a big (no pun intended) part of her story is the demigod Maui. JAKKS Pacific has a talking version of this fun character for ages 3 and up.
Mega Maui is over 16 inches tall. He is also about 14 inches wide, making him a pretty formidable figure. His feet alone are 4 inches long. This guy is made of hard plastic so he's not a cuddly plush, but he is fun to hold. As in the film Maui is covered with his tattoos, he wears his leaf skirt, his hair is squishable plastic, and he comes with his intricately carved fishhook that he can actually hold. The hook is removable so kids can play with it themselves.
What makes Mega Maui even more fun is he talks. Simply press his "bone" necklace and he says one of 12 movie phrases and sings the hit song, "You're Welcome."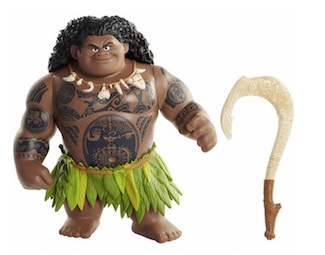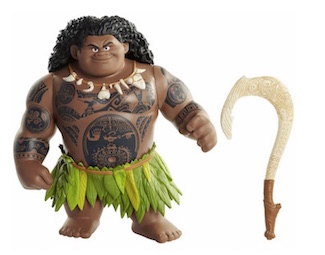 This fellow sports his wide grin and intriguing eyes. He comes to life with the 2 AAA batteries that are included. With his movie phrases and song it's fun for kids to recreate scenes from the hit film. And Maui is a character that appeals to both boys and girls, however this fellow will likely be enjoyed mostly by boys.
Not only can kids recreate scenes from the instant classic film, they can make up their own situations with Maui. Imaginations will run wild with this figure/doll, as with the character himself! With his poseable arms, Maui is ready for hugs – or adventure.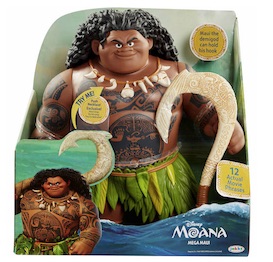 "Do you know who Maui is? Only the greatest demigod in all the South Pacific. With his magical fishhook he slowed down the sun, battled monsters. And I should know. Because I'm Maui." That's just one of the movie phrases spoken by Dwayne Johnson – and Mega Maui.
Because of his size, it's easy to see the intricacies of his tattoos. Kids might also enjoy drawing their own tattoos on paper.
Mega Maui is definitely a toy that will provide hours of fun for kids. Because of his size – he is "mega" after all – he is a bit on the weighty side so it will be difficult for very small kids to carry him.
JAKKS Pacific has been producing toys and products since 1995. The company has strong ties with Disney and other companies. They have an impressive line of Moana toys.
Mega Maui lists for $49.99.
About the Reviewer
Francine Brokaw writes about products, travel, and entertainment. She has been published in national and international newspapers and magazines as well as Internet websites. She has written her own book, Beyond the Red Carpet The World of Entertainment Journalists, from Sourced Media Books.
Follow her on Twitter