Disney's Babies – Brought by the Stork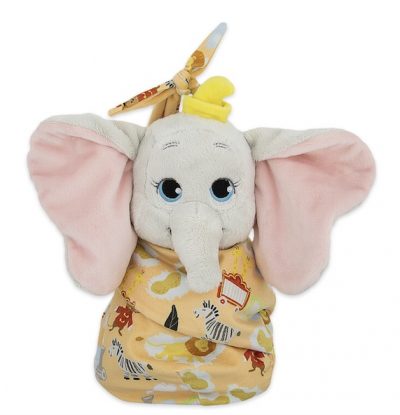 The stork delivers the latest group of Disney's Babies plush animals. These adorable little guys are wrapped in a soft blanket pouch, which Mr. Stork carries in his beak.
These cuddly animals are about 10" high and posed for delivery in their colorful and soft sacks. Their blanket pouches have images that correspond to their stories.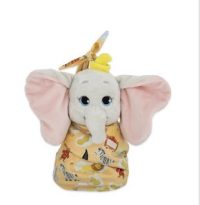 Baby Dumbo is adorable. In the movie he was delivered to his mom by the stork. Now he is delivered to your home by the stork, via Shop Disney. His oversized ears are soft and floppy and can wrap over his sweet and innocent little face. He is dressed in his circus hat and collar and his facial features are embroidered with great detail.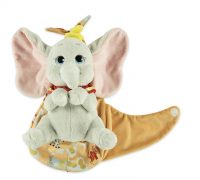 blanket pouch is designed with circus animals and even little Timothy is represented. The blanket pouch is fastened with Velcro so it's easy to unhook and remove the cuddly little elephant. And once he's out of his pouch he's an adorable, soft little fellow that makes a great sleeping pal. Actually, he's just as cuddly when he's wrapped in his pouch.
Other animals in the current collection include baby Sven, baby Bambi, baby Thumper, baby Flower, baby Simba, baby Marie, baby Scamp, and baby Pegasus. Hopefully there will be others in the future as they are sweet little guys and a welcome addition to the Disney's Babies line of plush. The past line of Disney's Babies had the animals wrapped in their own blankets that closed via Velcro. This new line has the soft blanket pouches that make them easy for toting by a child or by Mr. Stork. They are all posed to fit inside their pouches but are each free to get hugs once out of their swaddling delivery pouches.



Each of their expressions are endearing. It's hard to choose just one. They are all sweet and loveable.



The Disney's Babies cuddly animals in their blanket pouches are only available at the Disney Parks and on the Shop Disney website. They are delightful baby representations of some of the most beloved Disney animated animal characters.
About the Reviewer
Francine Brokaw writes about products, travel, and entertainment. She has been published in national and international newspapers and magazines as well as Internet websites. She has written her own book, Beyond the Red Carpet The World of Entertainment Journalists, from Sourced Media Books.
Follow her on Twitter