ECOlunchbox – ecofriendly and convenient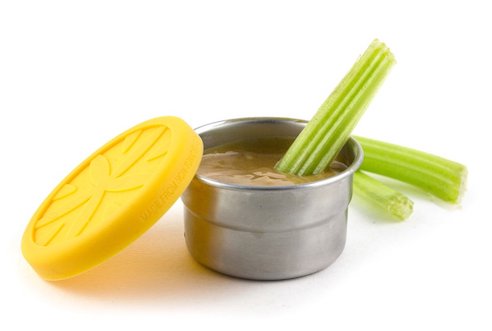 The line of stainless steel food containers from ECOLunchboxes are handy, well made, and attractive. And, they are plastic-free. Lately it has been discovered that we have been ingesting plastic when we drink water from plastic bottles. Well, that may be true for other plastic items as well. With these ECOlunchboxes, Bento boxes, containers and other items, you can rest assured there is no plastic to ingest.
There are a variety of containers and container collections. To date they have sold more than 485,000 containers that are environmentally friendly, and most importantly, plastic-free. Check out their 3 in 1 Splash Box set, each with a leak-proof silicone lid and stainless steel containers. They nest together making them handy and convenient to store when not in use. Plus, they are dishwasher-safe.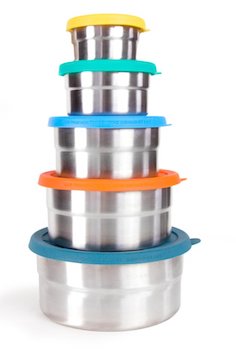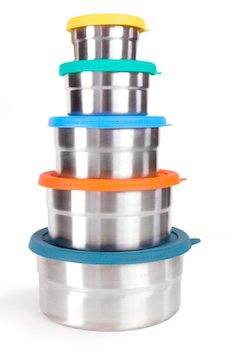 After using these containers, you will most likely want to replace all your plastic containers with the ECOlunchboxes. There are shapes and sizes to fit almost anything you want.
With the variety of sizes, it is easier than ever to pack a nutritious lunch for your child. Since they are leak proof, you can easily put some hummus in one and some celery or carrot sticks in another for a healthy snack. Or put some tuna salad in one and some crackers in another. And when you're off to the office and want a healthy lunch for yourself, simply put a salad in the large container and dressing in another. Whatever you put inside you can be assured it won't leak. The snap-on silicone lids are sturdy and secure.
With these eco-friendly containers, the oceans are cleaner and you are safe from plastics, which is a big concern these days. They are easy to nest/stack/store, clean, and leak proof. The next time you need a housewarming gift or are invited to a party, think about a set of ECO-lunchboxes. They are a thoughtful gift.


About the Reviewer
Francine Brokaw writes about products, travel, and entertainment. She has been published in national and international newspapers and magazines as well as Internet websites. She has written her own book, Beyond the Red Carpet The World of Entertainment Journalists, from Sourced Media Books.
Follow her on Twitter