Dyson AM08 Pedestal Fan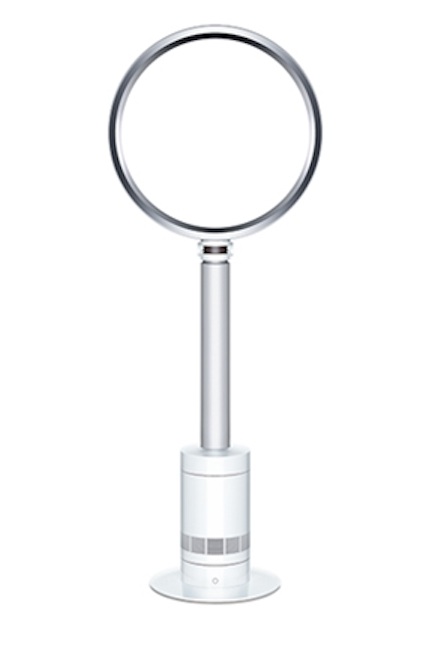 It's summer and that means warm weather, and in many cases, very hot weather. If you're spending most of your time in one room, why are you cooling the entire house with an air conditioner? With energy costs rising, it makes sense to use this great fan for times when you only need to cool one room. The Dyson AM08 Pedestal Fan is powerful, attractive, and it really works.
Instead of being a table fan, this pedestal fan sits on the floor so it is a great fan to cool the warm summer nights when you're sleeping. Simply place it in the bedroom or next to the bed and adjust the aperture (the big round circle) to the precise angle that will keep you cool during the night.
Why would you want this as opposed to a conventional fan with blades? First of all, Dyson has been producing reliable and sturdy products for years. They incorporate design with functionality. Second, the Dyson fans do not use blades, making them safe to have around children. Third, they are easy to clean. You don't have to get between slots or grills to clean the unit. There are none. Just wipe it with a cloth. Fourth, they look amazing. Fifth, they really do work.
How do they work if they don't have blades pushing the air around? That's where their ingenuity comes into play. All round the aperture there are air channels that use the Dyson Air Multiplier technology. Not being an engineer I won't attempt to describe how it works, all I can say is that the technology creates a smooth stream of cool air.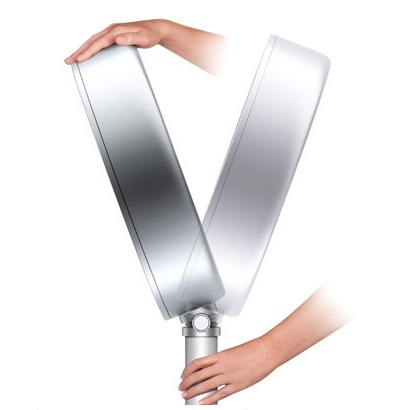 The pedestal has a telescopic tube that when fully extended is 55.4 inches high. The entire unit weighs 8.5 pounds and has a 6.6-foot cord. The AM08 also comes with a remote control. This is a great benefit, especially when you're using it in your bedroom. There is a programmable sleep timer with preset intervals so you can set it to stay on from 15 minutes up to 9 hours. And the remote lets the user adjust the airflow as well as the oscillation. If you don't want it to oscillate, you can turn it off from the remote. Plus, with ten settings, the remote allows for adjusting the amount of airflow. Simply look at the bottom of the fan to see which setting it is currently set at. The setting is lit up by LED numbers. Adjust accordingly. If you want more air, raise the setting. If you're cool and comfortable and want a little less air, decrease the setting. All without getting up from your chair or bed.
It's no secret I have been a Dyson fan, no pun intended, for a long time. Why? Because I love the way they look and because I honestly think they do what they are intended to do. Without grills to open or squeeze my fingers through to clean dusty blades, these fans are a blessing. And for families with kids, there are no blades that can cause injuries to little fingers.
I have never had a fan that is 100 percent quiet. I don't think it's possible to make a fan that really cools the air and doesn't make a sound. The Dyson Pedestal fan does make some noise, I will admit, however it is much quieter than any of the other big fans I have ever heard. And, if it is possible to make a completely silent full force fan, I'm sure the engineers at Dyson will find a way. In the meantime, we have this unit that is definitely not loud.
To find out if this is the best fan for your needs, go to Dyson.com.
The Dyson AM08 lists for $449.99 and is available in white with silver. It looks like it was taken from the Jetson's home. How cool is that? Again, no pun intended.
About the Author
Francine Brokaw has been covering all aspects of the entertainment business for 20 years. She also writes about technology and has been a travel writer for the past 12 years. She has been published in national and international newspapers and magazines as well as internet websites. She has written her own book, Beyond the Red Carpet The World of Entertainment Journalists, from Sourced Media Books.
Follow her on Twitter
Like her on Facebook