New Costa Spring 2015 Sunglasses for Women
Named after the Boga fish, one of Costa's newest sunglasses for women is both practical and pretty. The company claims they are designed for women who spend a lot of time on the water, however they are attractive and comfortable to wear all the time.
The Boga, like the other Costa sunglasses, is made for eye protection. With 100% UV light blockage as well as polarization that eliminates reflective glare and thereby reduces eye strain, these lenses are built for practicality. But that's not to say the glasses don't look spectacular.
The Boga style is round with the frame not entirely surrounding the lens, giving it a more modern flare to the Jackie-O style. Although when I first put on my glasses, my husband said, "You look like Jackie." I took that as a compliment.
Besides the look of these very wearable glasses, they are meant to be durable and comfortable. Costa uses special hypoallergenic rubberized no-slip nose pads and temple tips, which for those of us who are sensitive, is a great advantage over other brands. And their springs are comfortable so wearing the glasses all day long won't cause any problems.
What also makes Costa sunglasses perfect for everyone is that the frames and lenses are available in a variety of mix and match combinations. I prefer grey lenses on all my sunglasses, so I selected the gray lenses with the Pomegranate Fade frame. What, you might ask, is a Pomegranate Fade frame? The top is a darker shade of maroon and fades to a beautiful cranberry pink at the bottom. It's gorgeous. And the other colors in this collection are just as beautiful. They have Morena, which reminds me of a beautiful piece of wood, White, Orchid, which is a stunning soft pinky-purple, Tortoise, and Squall, which is a dark gray. The lens choices are gray, green, copper, blue, amber, and silver mirror. When you go to the Costa website, you are able to customize your sunglasses with the color lenses and frames of your choice.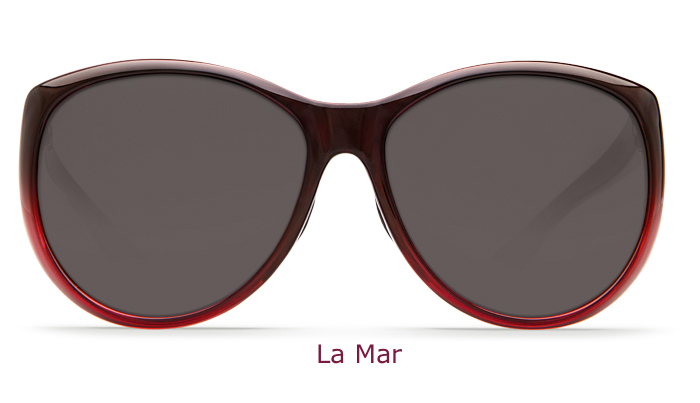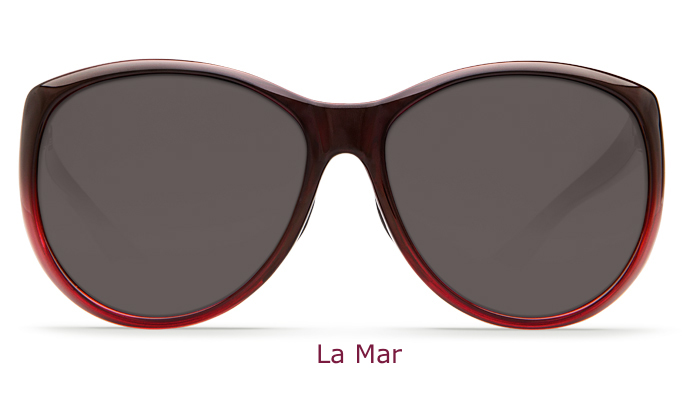 The second new women's style for spring 2015 season is called La Mar, which is another round frame with a little more edgy styling. The outside edges come to a corner on the top instead of being completely curved. The frame colors for the La Mar are different than those for the Boga. La Mar seems to me to be a little sportier and the Boga is more voguish because of the way the lens is not completely surrounded by the frame.
"These styles are for women who love to be on the water, and want a great pair of sunglasses to complete the scene," said Chas MacDonald, president of Costa. "These big-eye styles are a perfect fit for any escape."
Both styles offer complete eye coverage and both of the new styles have the same construction and durability as well as the lenses that ease eyestrain (which is why we should buy sunglasses to begin with). Many people select sunglasses on style alone and forget that they are meant to serve a purpose. Sure, Jackie O looked great in her sunglasses, but back in her day they didn't make lenses like they do today, and Costa makes sure to create lenses that are functional while at the same time combining them with stylish frames. Think of why you buy sunglasses. Is it solely to look good? If so, you are doing your eyes a disservice. Finding a sunglass that looks good while at the same time preserving your eyes and reducing strain while making what you see look clear and sharp is what you should be doing when you look for sunglasses.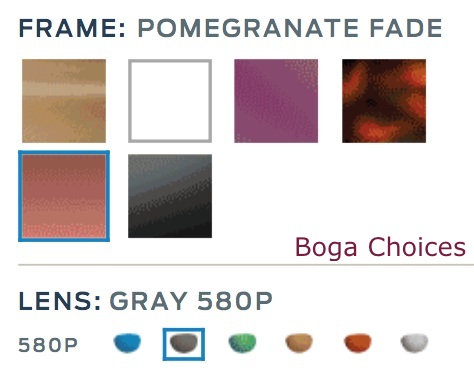 As you can tell, I am already a fan of Costa sunglasses simply because I have sensitive eyes and suffer from headaches. With the Costa glasses I don't suffer from the eyestrain of dime-store sunglasses, and I get the option of selecting my lens color and my frame color.
Costa has been in business since 1983 so they know how to create the best glasses. They are designed for sportsmen and sportswomen who spend a lot of time outside. But they are also great for people who don't surf, fish, boat, or aren't on the water all day long. These are simply well built sunglasses with the added benefit of being functional and stylish.
Costa not only creates sunglasses, but also strives for conservation. They recently took on the problem of plastic waste in the oceans with their Kick Plastics Campaign. "Our hope is that we can spark real conversations within our own fishing and outdoor communities about the grave dangers facing our oceans," said Perkinson. "This isn't some distant problem, this is an issue that directly impacts all of us in the sport fishing industry. Simple changes such as … drinking out of a permanent water bottle and recycling the plastic we do use can significantly reduce the amount of trash making its way into our oceans." For more information about this campaign and Costa, as well as to order your own sunglasses, go to costadelmar.com.
Yes, I am biased because I have been wearing Costa sunglasses for years and completely believe in them. And I feel that once you try them, you will feel the same.
About the Author
Francine Brokaw has been covering all aspects of the entertainment business for 20 years. She also writes about technology and has been a travel writer for the past 12 years. She has been published in national and international newspapers and magazines as well as internet websites. She has written her own book, Beyond the Red Carpet The World of Entertainment Journalists, from Sourced Media Books.
Follow her on Twitter
Like her on Facebook