Dyson DC 65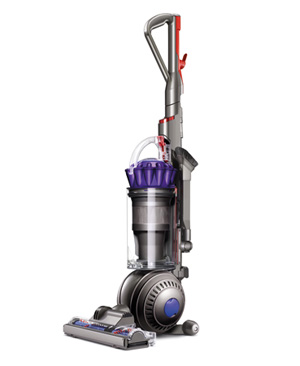 One in five Americans suffer from allergies, and I am one of them. While most vacuums only work on floors, the DC65 also works on the air we breathe. You might notice some dust flying around when you vacuum. With the newest Dyson technology and their DC 65, the dust is all trapped in the bin.
According to Mike Tringale, Senior VP of the Asthma and Allergy Foundation of America, "To earn the asthma and allergy friendly certification, Dyson vacuums had to pass rigorous tests for removing allergens from carpets, measuring levels of airborne allergens during vacuuming, filtration, integrity, cleaning performance when the bin is almost full, and easy, hygienic bin emptying. Dyson machines meet or exceed the strict criteria for all of these tests."
For allergy sufferers, this statement sounds like it's too good to be true. So I tested the newest Dyson upright, the DC65, and found it to be exactly what the company claims it is. It is a powerful upright that is easy to handle and cleans my carpet while not scattering dust in the air as I vacuum.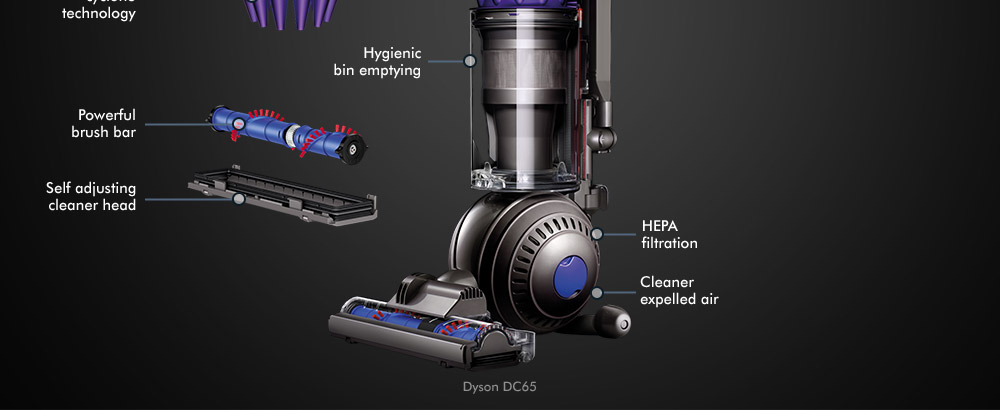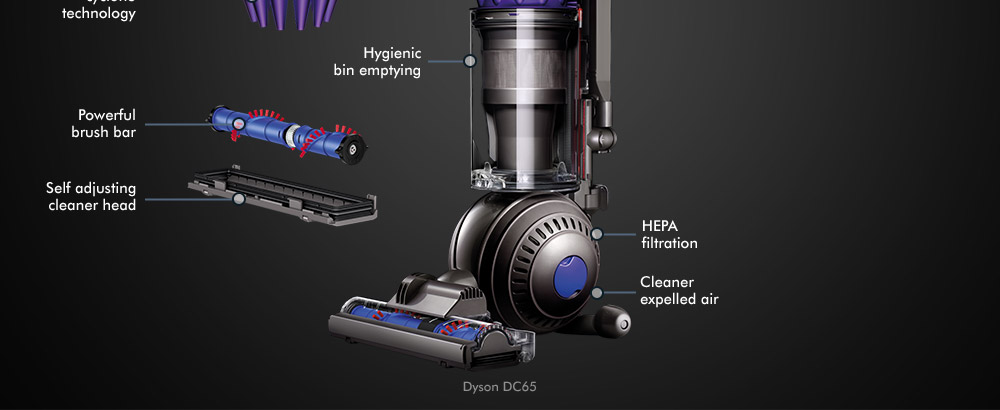 There are three versions of the latest Dyson upright: the DC65 Multifloor, the DC65 Animal, and the DC65 Animal Complete. They all have the newest ball technology and a self-adjusting cleaner head. The Complete comes with four additional cleaning tools in a case. Otherwise, whichever one you choose, you'll have the most powerful Dyson upright on the market.
To create this machine, the engineers took three years and went through many prototypes. The final product is one I highly recommend for any household with allergy sufferers, and that is most of us.
Okay, enough of the stats, here's what I found while testing this new vacuum. The ball technology makes it easy to turn the machine when vacuuming around corners and furniture. The cord is long enough to reach a couple rooms without unplugging it from the wall. The hose expands to reach high places, and the additional tools are easy to attach. All of these things are pretty common on vacuums. My main reaction when I used this vacuum for the first time is that it is powerful! It has a lot of suction. And, second, I didn't sneeze once when I vacuumed. There were no allergens being spread around when the vacuum was on. That's a big bonus for any allergy sufferer. And emptying the bin is as easy as pushing a button.
I vacuumed one room, which had recently been vacuumed by another machine. The Dyson DC65 got out even more dust, dirt, and junk. So yes, it really does have a lot of suctioning power.
The downside to this vacuum is the noise, although I have yet to find a perfectly quiet vacuum that cleans deep and is easy to handle. I haven't found a quiet drill in a dentist's office either! Once you turn on the vacuum, however, you know it is a formidable machine.
One vacuum is pretty much like the other, right? Wrong. They are all different. This one has a lot of guts to it. And, I am sold on the Dyson ball, which makes maneuvering the vacuum so much easier than a plain vacuum. The tools make it easy to clean mattresses where dust mites live, upholstery where mites live and where pet hair collects, and dust where mold spores can congregate.
In order to ease allergy sufferers, dusting and vacuuming floors is not enough. Check out the Dyson website to learn where allergens lurk in your home and how to keep them at bay.
The bottom line is that the DC65 is the most powerful vacuum I have ever used. The root cyclone technology does its job suctioning out dust and dirt. The ball technology makes it easy to maneuver. Yes it is a bit loud, but not as much as some other vacuums on the market. It's not my favorite color combination (purple and red), but who decorates with a vacuum? With the reputation of Dyson and the 5-year warranty, if you are in the market for a new vacuum, you should definitely check out the DC65. It is full of p-o-w-e-r.
About the Author
Francine Brokaw has been covering all aspects of the entertainment business for 20 years. She also writes about technology and has been a travel writer for the past 12 years. She has been published in national and international newspapers and magazines as well as internet websites. She has written her own book, Beyond the Red Carpet The World of Entertainment Journalists, from Sourced Media Books.
Follow her on Twitter
Like her on Facebook