Gelli Arts®for fun family activities


What is Gelli Arts®? It's a fun system of acrylic paint with textures and items to craft yourself for a different artistic experience. With the online tutorial you can start creating some great crafts right away.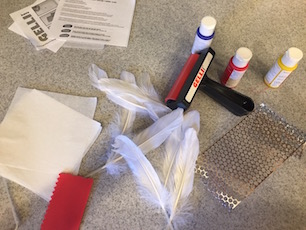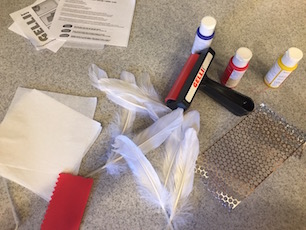 Their new Feather Printing Kit is really unique. The kit includes three paint colors, the Gelli® plate, tools, a few textures, and eight white feathers. Feathers? Yep. Imaging creating colorful and unique feathers for a cool birthday party. Who would think of painting designs on feathers? Gelli Arts® did!
Once you begin, you're in for some great finished products. And they're easy to create.



First, put a drop of paint on the gel plate. Then take the roller and spread the paint on the plate. Next select a texture and press it onto the plate and then remove it. Carefully place a white feather on top of the plate and cover it with a thin piece of paper and press with your hand. Remove the paper and carefully pull off your feather. Clean the tools and plate (with wet paper towels or baby wipes) and you're ready to go again. You can keep adding more colors to your feather with different designs if you prefer.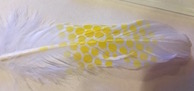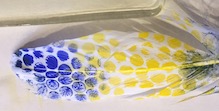 There are kits for creating unique cards and several kits for stamping and printing. And you will definitely find textures around your house to use (plus there are options to purchase them on the website). For instance, a piece of screen or lace would work beautifully. You'll also think of other things on which to create your new art.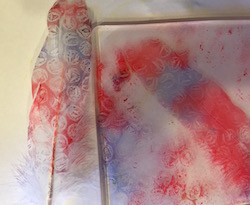 The kits are for ages 8+ and there are special prices for teachers. Check their website for all the info.
The company is the brainchild of two women, a crafter and a businesswoman. They joined forces to create this fun and new way to craft. I have only experimented with the feathers however I know I am going to use other items to create some unique objects. I enjoyed trying out my test products and appreciate they are made in the USA and odor free.
https://www.gelliarts.com/pages/gelli-printing-plate-demo
About the Reviewer
Francine Brokaw writes about products, travel, and entertainment. She has been published in national and international newspapers and magazines as well as Internet websites. She has written her own book, Beyond the Red Carpet The World of Entertainment Journalists, from Sourced Media Books.
Follow her on Twitter