Tea for Two with Mrs. Potts and Chip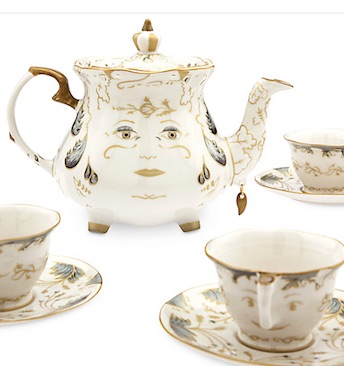 In 1991 Disney's animated feature film Beauty and the Beast quickly became an audience favorite among all ages. On March 17, 2017 the live-action version of the Disney classic hits theaters. All the characters we have loved for 26 years are back, albeit just a little different.
To celebrate this new film the Disney Store has two great tea sets – one for kids and one for adults, each designed with the live-action film in mind.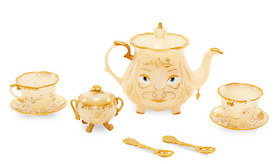 The Enchanted Objects Tea Set ($24.95) is for ages 3 and up and includes Mrs. Potts, Chip, and one other cup along with two teaspoons, saucers, and a sugar bowl with lid.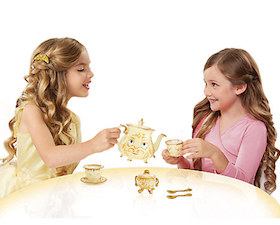 This enchanted set is made of plastic so it is not meant to be used with real tea. It is meant to be played with at a pretend tea party. Two BFFs, a girl and her favorite stuffed animal or doll, or a mother and child can have fun with this set.
Not only does it encourage imagination and play with the adorable objects, but also, as the name implies, there are some "enchanted" features about the items. First, Mrs. Potts' eyes close when she is tilted. And second, Chip wobbles on his saucer. So, with Mrs. Potts opening and closing her eyes and little wobbly Chip, a lot of fun play is in store for a child's tea party.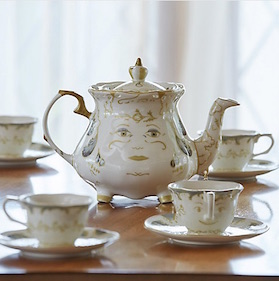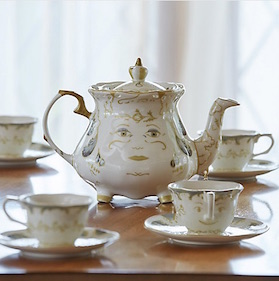 The Limited Edition Fine China Tea Set can definitely be used for real tea parties. Included in this set are Mrs. Potts, Chip, two additional teacups and four saucers. Having tea with this set is a memorable experience.
Because it is usable, it is an entertaining way to enjoy an afternoon with friends. Invite over your gal pals for tea and cake. Or, for special mother/daughter time, bring out this set to enjoy with your child.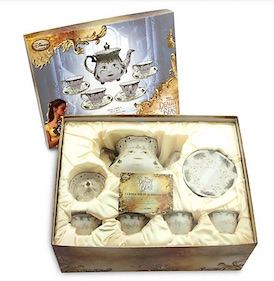 It comes in a special box for gift giving. Perhaps for Mothers Day? With the edition limited to 2000 units, it is something you cannot wait to purchase. It sells for $249.95.
Many people collect tea sets. This is wonderful item someone who collects sets and also loves the story of Belle and the Beast. And let's face it, that's pretty much most of us.
So whether you are looking for a play tea set for a child or an exquisite fine china tea set for an adult, these two fit the bill.
About the Reviewer
Francine Brokaw writes about products, travel, and entertainment. She has been published in national and international newspapers and magazines as well as Internet websites. She has written her own book, Beyond the Red Carpet The World of Entertainment Journalists, from Sourced Media Books.
Follow her on Twitter