Nana - The newest Disney Baby with Pouch – product review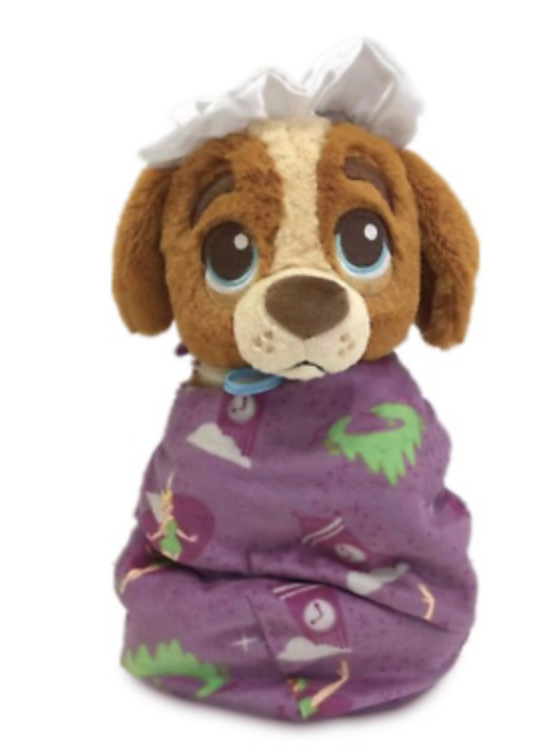 We all love our plush animals. The Disney Babies Plush in Pouch collection is perfect for ages 0+ because there are no eyes or items that can be pulled off. These 10-inch plush characters represent favorite Disney films and are soft and furry and ready to hug or display.
The newest addition to the collection is baby Nana. She's the doggy nursemaid to the Darling kids: Wendy, Michael, and John. She's there when Peter Pan comes to take them to Never Land. Baby Nana represents the adult Saint Bernard (some think she is a Newfoundland) with her little white cap and blue strap with a bow. She looks like she is anxiously waiting to grow up so she can take care of the Darling children.
Baby Nana's pouch is also soft, with a hidden Velcro closure. This velour fabric depicts Peter Pan, Tinker Bell, Never Land, and Big Ben in a soft lilac colored background. There is a loop on the pouch to easily hang it from a hook or bedpost. Nana's eyes are expressive and her entire appearance will make you say "aww." She's sweet and definitely loveable. Every thing on Nana is embroidered so little fingers won't be able to tug and pull off items.
Once unhooked, Nana comes out of her pouch and is ready for hugs and play. She is super soft, and even her embroidery is soft. Whether she is tucked into her pouch or on her own, Baby Nana is a huggable little puppy.
Dog lovers, fans of Peter Pan, Disney Babies in Pouch collectors, and those who simply love huggable plush animals will delight with Baby Nana. Wouldn't it be fun to have a caring dog as a nursemaid? Peter Pan was released in 1953, with several incarnations and spinoffs. This film caught the imaginations of viewers around the world. Now when your family gathers to view the movie again or for the first time, kids can hug Baby Nana and take her off to bed with them.
There are other characters in the Disney Babies in Pouch collection. Check out your favorite…but don't forget about Nana!
About the Reviewer
Francine Brokaw writes about products, books, travel, and entertainment. She has been published in national and international newspapers and magazines as well as Internet websites. She has written her own book, Beyond the Red Carpet The World of Entertainment Journalists, from Sourced Media Books, is the entertainment correspondent for Good Day Orange County, and has her own TV show, Beyond the Red Carpet, on Village Television in Orange County. Follow her on Twitter.