vinOair Wine Aerator from CorkPops
| | |
| --- | --- |
| Ages: | 21+ |
| Price: | $20.00 |
| Website: | Corkpops |
| Year: | 2022 |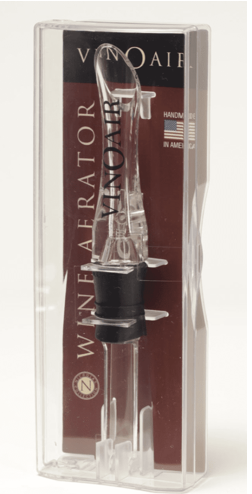 Wine connoisseurs know that aerating wine is a must. Aeration increases oxidation, which softens the tannins. Aerating a bottle of wine also assists the liquid in releasing the aroma, and we all know aroma is important.
This cool design doesn't detract from the bottle. As a matter of fact, being clear it is almost invisible. Yet it still performs as it should. And besides aerating the wine, it also acts as a decanter. Yep, you can aerate your delicious bottle of vino then pour a glass of your favorite wine, whether it is red or white. Some wine experts say it is not necessary to aerate white wine because white wines have less tannins than red, however if you are a white wine lover, give it a try and see if you get a more robust scent and flavor.
Oxygenated wine makes a difference. If you watch movies and some cocky/snooty guy who wants to impress his girl asks if the waiter let the wine breathe, well, that implies oxygenation.
This little item can easily be transported with you when you take a bottle of wine to a picnic. It is lightweight and makes pouring the beverage easy without any drips. And let me tell you, sometimes red wine stains cannot be removed. (Just look at my beautiful yellow dress that is now spotted with dark burgundy splotches!)
Businesses can have their logo imprinted on the aerator. Imprinting names on the item makes this a great gift. Think about a housewarming gift, a hostess gift, a promotion gift, or whatever. Making it personal adds a special touch. Just contact the company for pricing information about imprinting a wine aerator.
Another great aspect of this handy little tool is that the vinOair Wine Aerator is made in the USA. Hallelujah.
About the Reviewer
Francine Brokaw writes about products, books, travel, and entertainment. She has been published in national and international newspapers and magazines as well as Internet websites. She has written her own book, Beyond the Red Carpet The World of Entertainment Journalists, from Sourced Media Books, is the entertainment correspondent for Good Day Orange County, and has her own TV show, Beyond the Red Carpet, on Village Television in Orange County. Follow her on Twitter.