Vivofit Jr. 2 from Garmin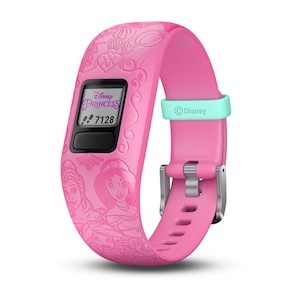 Just when we thought Smart Phones were taking up too much of our kids' time, Garmin changes the game. Now your Smart Phone can be helpful with their APP and the new Vivofit Jr. 2. This tracker is on a comfortable adjustable band that comes in a variety of colors and characters and will motivate kids to stay active, do their chores, and achieve goals, while letting parents know how much sleep their child is getting, their activities, and if they are doing their chores.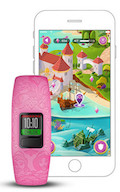 The Vivofit Jr. 2 is more than a fitness tracker. There is Disney magic inside every band. It's customizable and parents can adjust the items as needed, via their Smart Phone.
The Disney Princess band is available in two colors: pink and purple. After they reach their activity goals, there are fun adventures to explore with the Disney princesses on a Smart Phone or tablet. They will help Rapunzel and Flynn escape from Mother Gothel, explore the Cave of Wonders with Jasmine, and other fun things. By achieving the goals, they open up more stories and adventures.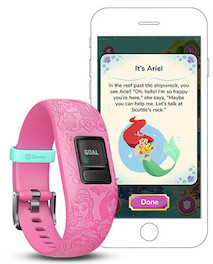 Besides activities, parents can set up their App for homework time, brushing teeth, and other responsibilities. And they will be able to design their own rewards for their kids. By achieving their goals, kids earn coins and parents can decide for themselves how many coins must be earned for a special dessert, a trip to the zoo, or any other reward.
The unit is also water friendly, so kids can wear it in the pool or the bathtub. Besides keeping track of time for responsibilities and sleep, the unit tracks steps and activities. It's recommended that children get at least 60 minutes of activity every day. This unit will not only encourage kids to move but also let parents know if their kids are keeping active or sitting on the couch watching TV or playing video games.
With interactive games and challenges, kids will want to keep busy and keep moving to unlock more fun.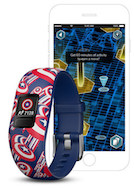 The Garmin Vivofit Jr. 2 comes in the two Disney Princess designs as well as Minnie Mouse, Star Wars and Marvel Avengers with stretchy and adjustable bands. Boys and girls can use it to connect with their friends who also have the App and challenge them to activities.
The unit connects to a Smart Phone via Bluetooth and comes with a one-year battery that can be replaced when needed. It's recommended for ages 4 and up.
I tested this for a day. It was comfortable and easy to use.
About the Reviewer
Francine Brokaw writes about products, books,travel, and entertainment. She has been published in national and international newspapers and magazines as well as Internet websites. She has written her own book, Beyond the Red Carpet The World of Entertainment Journalists, from Sourced Media Books.
Follow her on Twitter