ZAGG adds more solutions for tech users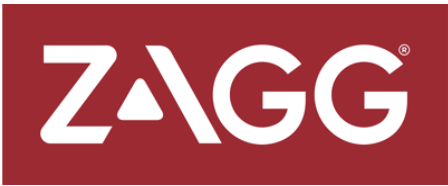 ZAGG keeps adding more and more companies to its stable and therefore more and more products for a variety of assistance in the world of technology. So now, for any tech-related assistance with computers and phones, all any user needs to do is to go to ZAGG for reliable solutions to a vast variety technological accessories.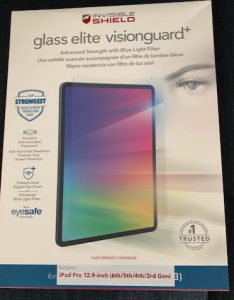 The first thing anyone needs once they purchase a smart phone or tablet is screen protection. The Invisible Shield glass elite visionguard+ is an advancement in screen protection, adding a Blue Light Filter to its anti-microbial-treated protector. This filter eases strain on eyes, and anyone who uses a computer can attest to feeling eye strain. 
Next, tablet users can add a keyboard that includes a case to safely carry the tablet. ZAGG offers two varieties of keyboards: the Pro Keys is wireless and the tablet is easily detachable from the case. The Pro Keys with Trackpad adds that additional element for users who prefer to use a trackpad instead of touching the screen or hitting keys. It's all a matter of choice. Both keyboard cases have a compartment to store the Pro Stylus. The stylus makes making notes, sketching, and editing easy with its pen-like tip. The box contains a second tip as a backup. The other side is the usual stylus with a rounded rubber cap making scrolling and selecting items on screen easy on the hands.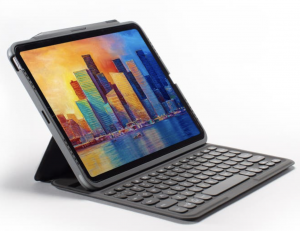 For those who prefer a sturdy folio case for their tablet without the keyboard, the Havana tablet folio case is treated with an antimicrobial component. It also has a stand to easily set the tablet upright on a table or a lap. This case is added protection against damage to a tablet.
Europe has mandated that all electronics be USB capable so all new products sold must have USB ports. The old iPhones and iPads are equipped with lightning ports, and Apple is one of the last companies to change over to USB-C. However, by the end of the year their iPhones will have USB-C ports and their new iPads now are coming with USB-C ports. So, upgrading to a new phone or tables includes changing all your current cables. Of course, the products come with their own cords, but if you have additional extensions for your car or house, these need to be updated to support USB-C. Don't worry. ZAGG has all the cables necessary to do this.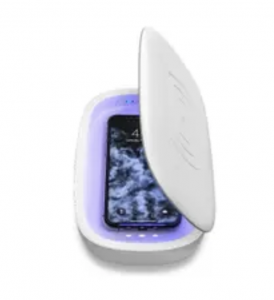 Now, with safety and cleanliness a top priority, especially after the pandemic, the mophie UV sanitizer with wireless charging is just what users need to keep their phones germ-free. This compact and portable unit sanitizes phones in five minutes, killing 99.99 percent of most bacteria. And the unit can be used as a wireless charging station for the phone. This item does double duty.
And if someone forgets to charge their phone before going out for the day, or to add additional energy for a phone while away from home or office, the mophie powerstation gives users hours of charge and it's small enough to fit in a pocket or purse. It's not too heavy either. 
About the Reviewer
Francine Brokaw writes about products, books, travel, and entertainment. She has been published in national and international newspapers and magazines as well as Internet websites. She has written her own book, Beyond the Red Carpet The World of Entertainment Journalists, is the entertainment correspondent for Good Day Orange County, and has her own TV show, Beyond the Red Carpet, on Village Television in Orange County. Follow her on Twitter.