Yes to Single Use Facial Masks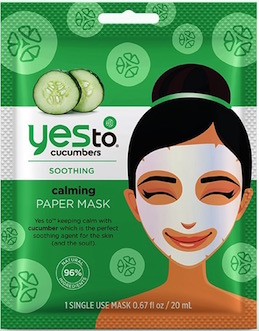 With all the makeup and sunscreen that we put on our faces, not to mention the daily dirt and environmental particles that we're exposed to, our faces need a little extra care. Whether you're acne prone or have sensitive skin, there is a Yes To mask for you.
The grapefruit is for pore perfection, the cucumber is for calming, the coconut is for hydrating, the tomatoes is for detoxifying (with charcoal), another tomatoes mask is for fighting acne, and the man's charcoal is made especially for men.
These single use masks are easy to use. They come already cut out with holes for your mouth, nose, and eyes. Simply place the paper mask on your face and relax for about ten minutes. Then peel the mask off and discard it.
This is a quick and easy way to pamper yourself and give your face a little pick-me-up.
With the many different masks, you might be wondering which one is right for you. The company has taken that decision out of your hands. Simply follow the guide below to select the mask that is best for your face.
With the single use paper masks, there is no gooey cream or anything to get messy in your bathroom. The mask stays where you place it on your face so you can go sit down or rest on your bed and nothing will ooze out. It's clean and simple.
Francine Brokaw writes about products, travel, and entertainment. She has been published in national and international newspapers and magazines as well as Internet websites. She has written her own book, Beyond the Red Carpet The World of Entertainment Journalists, from Sourced Media Books.
Follow her on Twitter