Good Witch 2-Hour Sneak Peek Halloween Episode
Category:
Television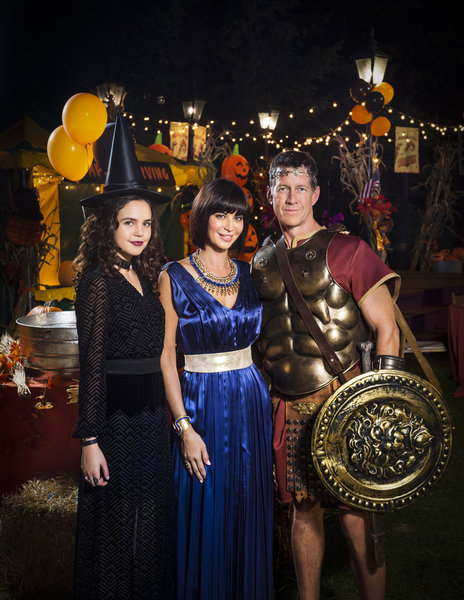 The popular Hallmark Channel series Good Witch returns for its second season on October 24, 2015 with a special 2-hour opening episode. Halloween is front and center, of course, in this fall season premier with the entire cast returning for more Middleton fun.
With the annual Halloween Fall Festival approaching, Middleton is getting Halloween fever. Cassie (Catherine Bell) is busy getting Grey House ready for the holiday while her daughter Grace (Bailee Madison) is coping with bullies at school. Martha (Catherine Disher) is commanding as ever as she doles out the assignments for the festival.
Sparks fly when an unexpected contestant for the Fall Festival Queen throws in her bid. Abigail (Sarah Power) decides to take on the reigning queen Stephanie (Kylee Evans). But that is secondary to the mystery of the new guest at Grey House. Who is this man and why is he snooping around the house? While everyone is eager to condemn him and evict him from the B&B, Cassie gives him the benefit of the doubt. There must be something redeeming about him in order for her not to feel any evil emanating from his aura. Right?
While everything is going on, Sam (James Denton) is still trying to connect with his son Nick (Rhys Matthew Bond). It seems these two are always on different wavelengths. But things are about to change.
Everything viewers love about this endearing Hallmark Channel series with its variety of characters is front and center in this two-hour sneak peek. With Halloween, there is an extra touch of Cassie Nightingale's talent, of course.
Tune in Saturday, October 24, 2015 for this special Halloween-themed Good Witch. Make sure you have plenty of caramel apples and hot chocolate handy. Good Witch is the perfect way to get in the holiday spirit. Enjoy!
About the Author
Francine Brokaw has been covering all aspects of the entertainment business for 20 years. She also writes about technology and has been a travel writer for the past 12 years. She has been published in national and international newspapers and magazines as well as internet websites. She has written her own book, Beyond the Red Carpet The World of Entertainment Journalists, from Sourced Media Books.
Follow her on Twitter