Jefrey Au-Go-Go! CD GIVEAWAY
Category:
Giveaways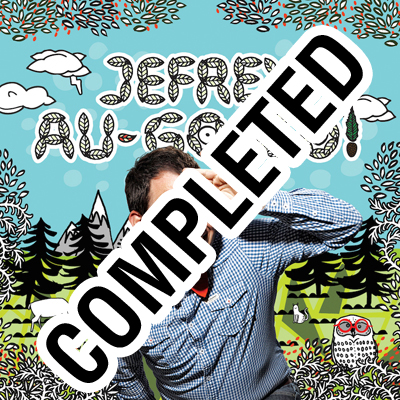 Jefrey Au-Go-Go!  is pure fun.   Jefrey presents a feast of alliteration and clever rhymes, playing with language for the sheer delight of the sound of the words in songs like "Peter the Pushy Puppy," "Ippo the Hippo," "Cheeky Alligator," and more.   It's wild, zany, outrageous, and jolly. Nothing profound here. It's a "just for fun" record for kids created by Jefrey Siler (a.k.a. Jefrey Au-Go-Go), a critically acclaimed indie musician who has based himself in both the US and Australia.
Jefrey Au-Go-Go! kicks off with "Peter The Pushy Puppy," a great example of wild and zany vocal delivery that rollicks through at least three very entertaining, silly octaves. "Ippo The Hippo" vacillates among outrageous accents (North Carolina backwoods to comic Italian and everything between). "Cheeky Alligator" thrives on a spooky vocal setting with lovely background voices that seem oblivious to the zaniness of the lyrics. "Milk Mustache" celebrates real kid stuff over a bouquet of ukulele strumming and marimba rolls. "Shake It Off" starts with some catchy counterpoint between flute and finger picking guitar that returns again and again to pull the song together. "Perry The Pirate," a descendant of Cyril Ritchard's unforgettable Captain Hook, offers non-stop silliness. A taste of Caribbean steel drum melody undulates gently beneath Jefrey Au-Go-Go's four-octave vocalization of the story of "Nelson." The fun continues right up to bedtime with a jolly, nocturnal "Pajama Parade" followed by the tale of a family of bears on "Mountain Called Change." A bit of Appalachian banjo introduces "Buster Brownbird," who dialogues with and serenades a fat Mrs. Worm. Jefrey signs off with a bunch of good advice on "Awful Wide."
We have some CDs to giveaway.
To be eligible to win a copy of Jefrey Au-Go-Go, email us at [email protected] with "Jefrey Giveaway" in the title. Please supply your name, address, phone number and email address (so we can let you know if you are a winner).
The deadline for this giveaway is January 20, 2015.