'Lady and the Tramp' is reimagined for Disney+
Category:
Television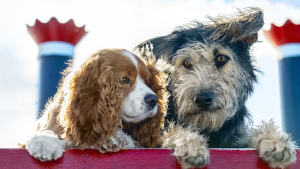 When Disney+ launched viewers/subscribers were anxious to see how the filmmakers would reimagine the 1955 animated classic Lady and the Tramp with live action. Would it live up to the hype?
The movie follows the same story as the animated film but with live action and some CGI. Jim Dear and Darling (Thomas Mann and Kiersey Clemons) adopt a little puppy they name Lady (voiced by Tessa Thompson). Lady is the princess of the house. But when a baby enters the picture, Lady is no longer the center of attention.
Tramp (voiced by Justin Theroux) is a street dog. He spends his nights in the railway yard and his days savaging for food. He is well known in the area, and a thorn in the side of the dog catcher who is intent on capturing this menacing dog. But in truth, Tramp is anything but menacing.
There are the ususal characters: Peg (Janelle Monae), Trusty (Sam Elliott), Jock (Ashley Jensen), Bull (Benedict Wong), and the rest of the canine group. There is also Aunt Sarah (Yvette Nicole Brown), who manages to disrupt Lady's life even more and ultimately sends the adorable dog into life on the streets.
Tramp helps Lady learn to handle life on the streets and even takes her to his favorite restaurant for a romantic dinner where the classic spaghetti scene plays out. The story is a live action remake, or re-telling, of the animated film generations of viewers have enjoyed. It is a bit difficult to see the animated characters come to life, but for a new generation of viewers, this is a film they will enjoy and will re-introduce them to the classic pooches. Lady and Tramp are beloved characters and with this new film they are a little different, but still filled with heart and love. For die-hard animated fans, it might miss the mark, though.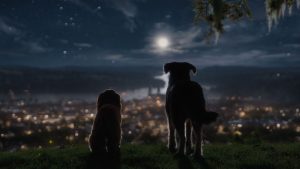 Lady and the Tramp is now available on Disney+. It is rated PG for some mild thematic elements and action/peril.
About the Author
Francine Brokaw has been covering all aspects of the entertainment industry for over 25 years. She also writes about products and travel. She has been published in national and international newspapers and magazines as well as Internet websites. She has written her own book, Beyond the Red Carpet The World of Entertainment Journalists, from Sourced Media Books, is the entertainment correspondent for Good Day Orange County, and has her own TV show, Beyond the Red Carpet, on Village Television in Orange County. Follow her on Twitter.