Toy Story Land opens at Walt Disney World
Category:
Travel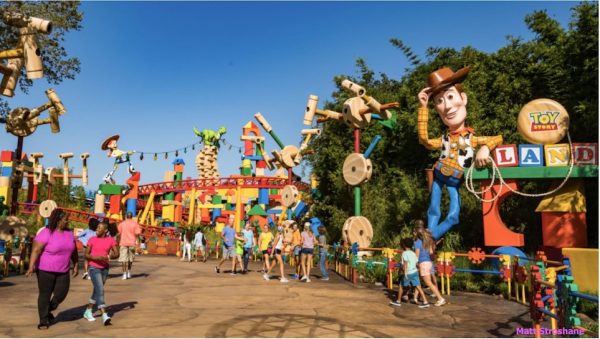 It seems like there is always something new and exciting coming to WDW. As Walt himself said, "Disneyland [and Walt Disney World] will never be completed. It will continue to grow as long as there is imagination left in the world." And there is a lot of imagination- from the Disney Imagineers and little Andy.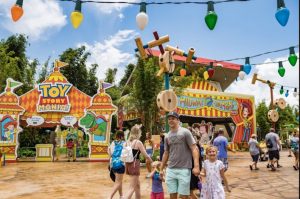 Bob Chapek, Chairman, Disney Parks, Experiences and Consumer Products said, "The opening of Toy Story Land is a big step in the evolution of Disney's Hollywood Studios, as we transform it from a place that took guests behind the scenes into one that puts them at the center of the action. We're thrilled to invite guests to visit Andy's backyard and to experience what it's like to play right alongside their favorite Toy Story characters – all thanks to the amazing partnership between our Imagineers and the storytellers at Pixar."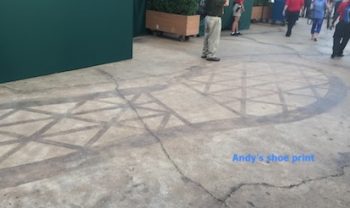 Located on 11 acres in Disney Hollywood Studios is the latest and greatest addition to WDW. Toy Story Land is not like anything else. It is where guests become the toys. Guests enter Andy's backyard and are instantly transformed to the size of his toys. The attention to detail is amazing. You can even see some of Andy's footprints as you walk through the backyard. They look like giant footprints, but remember you are a toy now, so Andy is quite a bit larger than you are.


Three main attractions are part of this land. First there is the Slinky Dog Dash, which is a small coaster that Andy has assembled with his various toys. Slinky takes riders on a fun roller coaster ride and at night it is a completely different experience. Lights on the track either chase Slinky Dog or he chases them. It's definitely an imaginative ride.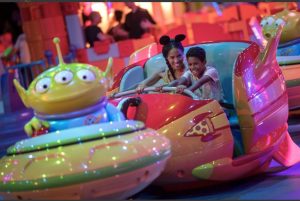 The second attraction is the Alien Swirling Saucers that take guests on a fun spinning adventure around "the claw." If you have experienced Mater's Junkyard Jamboree in Disney California Adventure, this is similar to the Alien Saucers. On a personal note, I really like this ride. It is not really jerky and it's filled with bright colors and fun music as the aliens race around in the little rocket ships while "the claw" looms above. "This is a world created by a boy's imagination," said Dave Fisher, Walt Disney Imagineering Senior Story Editor. "Andy has brought out all his space toys – it's a really fun and high-energy attraction." Andy is a creative little boy, and assembled some ingenious activities for his toys to enjoy. And, as a toy, guests enjoy them too.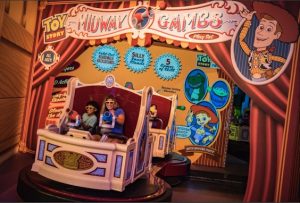 The third attraction is Toy Story Mania, an interactive ride that lets guests test their skill as they travel from one "game" to another, all the while shooting at objects that pop up in front of them. Guests are actually riding through a shooting gallery, while wearing 3D glasses to see the fun as they stop at one spot after another.
And while you are in Toy Story Land, check out the food at Woody's Lunch Box where there are new delicacies as well as traditional treats.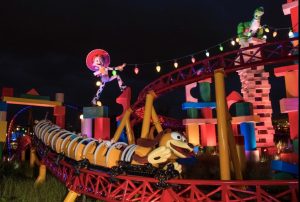 Roger Gould, the creative director of theme parks for Pixar Animation Studios, said, "Everyone at Pixar is thrilled to see the Toy Story films coming to life so spectacularly in Toy Story Land. Watching our stories and characters leap off the screen into the fun and whimsical world of Toy Story Land is a joy for all of us at the studio. Naturally, we love animation and we love the Disney Parks, so it's amazing to collaborate with our partners at Walt Disney Imagineering to create this enormous immersive world. And just as each Toy Story film expands the world of our favorite toy friends, our land gave us loads of opportunities to invent and open up the world with new fun and surprises. We're delighted to join Disney in the fun and invite guests to explore Andy's backyard – full of their favorite toys – 'cause Andy's away and it's time to play!
Throughout the land, the green army men are on patrol making sure Andy stays away. After all, if Andy were to come into his backyard, all the toys would have to go back to being still, silent, and just toys. So the green army men are constantly patrolling.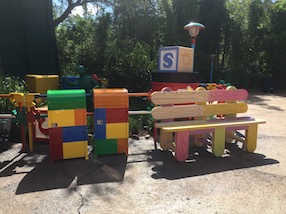 While you are walking around make sure you pay attention to everything. The details here are amazing, like benches made of Popsicle sticks and other things throughout the land. Andy has done everything possible to make sure his backyard is a fun place for all his toys to play. Way to go, Andy!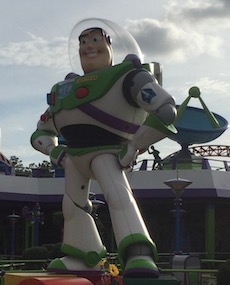 Whether you're a Woody fan, a Buzz fan, a fan of Potato Head, Jessie, the three eyed aliens, or any of Andy's other toys, you're sure to enjoy being among them all, and being one of them while you're in Andy's back yard.
About the Reviewer
Francine Brokaw writes about travel, products, and entertainment. She has been published in national and international newspapers and magazines as well as Internet websites. She has written her own book, Beyond the Red Carpet The World of Entertainment Journalists, from Sourced Media Books.
Follow her on Twitter