Winter's Tale on Blu-ray
Category:
Blu-ray's and DVD's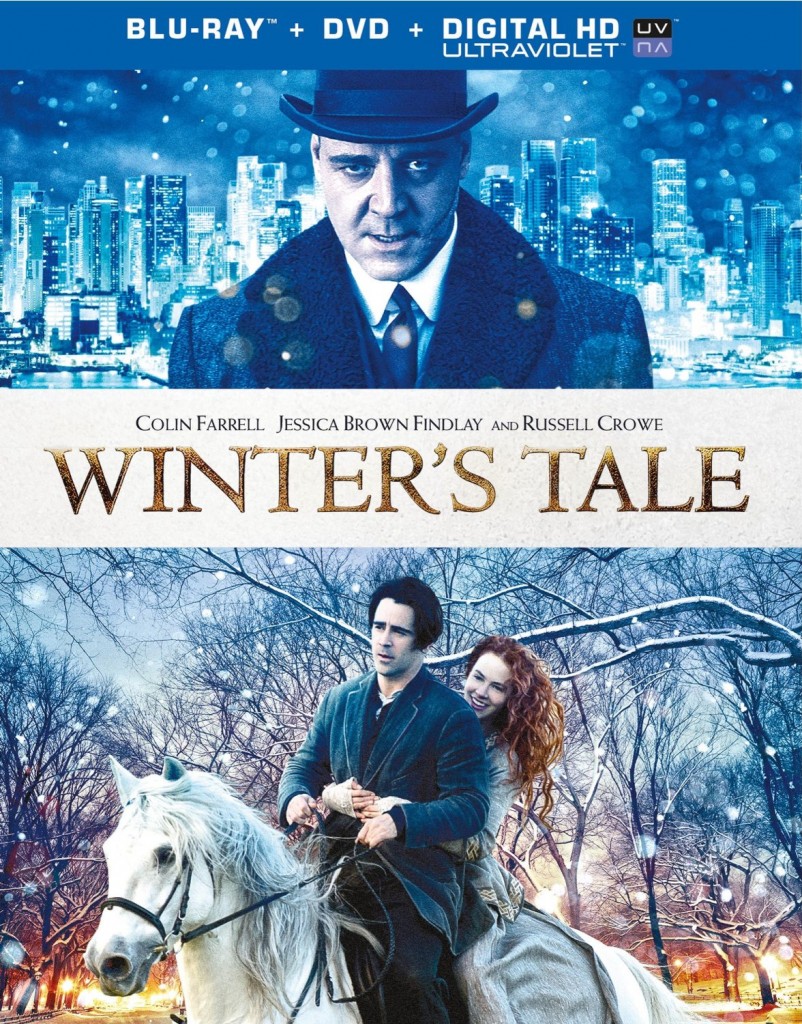 Get ready for an amazing adventure with the Blu-ray edition of Winter's Tale. This story is a magical, mythical love story that spans over a century.
This is a classic story of good versus evil. Will Smith is the devil and one of his henchmen is Pearly (Russell Crowe) who wants nothing more than to eliminate a young man who was his protégé and now is his enemy. This man, Peter Lake (Colin Farrell) is a master thief and when he meets a beautiful young woman named Beverly Penn (Brown Findlay), they instantly fall in love. But consumption is slowly taking her life. Can Peter's love and a bit of magic save her?
Forward a century to the current time and Peter finds himself lost and alone, and trying to figure out who he is. Then his past comes tumbling back. Although a century has gone by, Peter is still the same age as he was when he was presumed dead in the early 1900s. He's now in NYC in 2014 and wondering why. Then he meets a young girl and everything becomes clear to him. His destiny is to save her. But it will be a life or death struggle with the devil to finally fulfill his destiny.
This story imparts the theme that time folds over, we are all connected, and there are many things and miracles we cannot explain, yet they happen all the time.
Winter's Tale is "an epic tale of romance and magic," says producer Marc Platt in one of the bonus features on this Blu-ray edition. It is the ultimate story of the forces of good and evil.
The city of New York is one of the characters in the story. It transforms from one century to the next. The ultimate core of the movie is the love story between Peter and Beverly, and the way it transcends time and death. There are some amazing magical moments threading through the film, and the movie will undoubtedly leave viewers with a sense of fulfillment.
On a personal note: In the beginning I was not sure if I would like this film. But as it progressed I became entranced and enchanted by the story. It is still percolating in my mind. The miracles, the magic, and the love that revolves around the characters make this like a fairy-tale and something that will be enjoyed over and over again.
There are a few interesting bonus features included on the combo pack, along with a Blu-ray disc, a DVD, and Ultraviolet Digital code.
Winter's Tale is a fantasy, a drama, a mystery, and a romance all rolled into one magical movie. It is rated PG-13 for violence and some sensuality.
About the Author
Francine Brokaw has been covering all aspects of the entertainment business for 20 years. She also writes about technology and has been a travel writer for the past 12 years. She has been published in national and international newspapers and magazines as well as internet websites. She has written her own book, Beyond the Red Carpet The World of Entertainment Journalists, from Sourced Media Books.
Follow her on Twitter
Like her on Facebook