Rio 2 Blu-Ray GIVEAWAY
Category:
Giveaways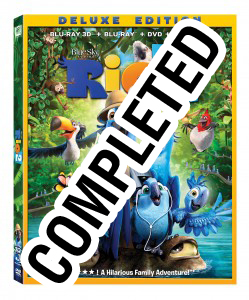 The RIO 2 Blu-ray is filled with everything you loved from the first Rio, but with even more laughs, excitement and music! There are nearly an hour and a half of bonus features on the RIO 2 Blu-ray, and there are also two downloadable bonus songs from the RIO 2 soundtrack.
Join Blu and his family as they travel to the Brazilian Amazon in this new adventure filled with plenty of laughs and fun with the same loveable characters and some new ones too.
We have three Blu-rays to giveaway.
To be eligible to win a copy of Rio 2, email us at [email protected] with "Rio2 Giveaway" in the title. Please supply your name, address, phone number and email address (so we can let you know if you are a winner).
The deadline for this giveaway is July 11, 2014.
Also, check out some of the fun your kids can have with the gang from Rio 2 at http://tealab.com/fox/rio2/toolkit/preview/nightly_build/.