Disney Products for the Last Half of 2015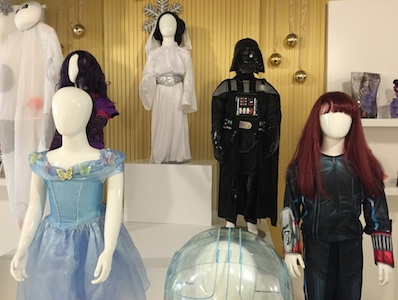 Disney Consumer Products is rolling out some wonderful new items during the remainder of 2015, just in time for fall fun and holiday gift giving. Below is a sneak peek at a few of the items.
Halloween is always a fun time for kids who want to transform into their favorite characters, even if it just a witch or a ghost. And with the great films of the past several years, there are plenty of animated characters that have stolen the affections of children everywhere.
Needless to say, Anna and Elsa are very popular and many girls will want to show off their inner Frozen princess this Halloween. The new Anna and Elsa costumes are stunning. A new Elsa gown has a detachable cape. Both the cape and the gown light up for a touch of Frozen magic. Of course there are other princess gowns as well. And since Disney has incorporated the Star Wars franchise, there are some pretty cool costumes for young Princess Leahs and Darth Vaders who want to take on "the force" this Halloween.
Perhaps the coolest of the new costumes this year is Baymax. This is an inflatable costume that instantly transforms your child – or yourself – into the loveable robot from Big Hero Six.
Miles from Tomorrowland is also a cute costume option for young fans of this popular Disney Channel animated sci-fi preschool series.
With all these creative costumes, Halloween has never been this much fun before.

For a touch of Disney in everyday life, there is a new a six-pack of socks featuring the different characters from Inside Out. Each pair portrays a different emotion from the film. There are only six in this pack so you're on your own for the seventh day. But what a fun way to express a little emotion and a lot of cuteness! They go great with the Inside Out talking dolls. Plus, for devotees of the film, a new Inside Out Game of LIFE is fun for the entire family.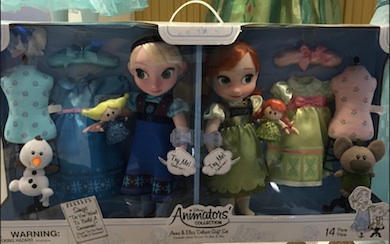 A new 14-piece Anna and Elsa Deluxe Gift Set includes the two animator dolls and a whole lot of extras. They each have their own small replica doll plus a stuffed Olaf and Troll come in the set. But that's not all. Each doll has a change of clothes, a hanger and a mannequin on which to display their dresses. Plus, the piece de resistance is…they sing. They sing the song "Do You Want to Build a Snowman?" This set is a must have for any Frozen fan.
Speaking of Frozen, Elsa's Magical Ice Palace makes a great gift for the holidays. There are several moving parts and plenty of things to play with as parts are flipped to reveal different aspects of the palace. A telescoping feature magically raises the palace up to three feet tall. The Elsa doll is not included in the set, but once she is added to her palace setting, there are hours of fun in store for any little girl who adores playing with Elsa and her palace.
The Magic Mike Elsa is bound to be on holiday wish lists this year. The doll comes with a microphone. She sings "Let it Go" along with the music, and when the mic is moved away it becomes a karaoke machine with the music still playing so your child – or you – can continue singing. Sing a duet or back and forth with Elsa. If you stop singing and place the mic near Elsa, she picks up the song where you leave off. That's the magic.
And for those who love all the Disney princesses, a new Deluxe Mini Animator Doll Set is being released. Packaged in a beautiful box for display, the box contains 15 mini animator dolls.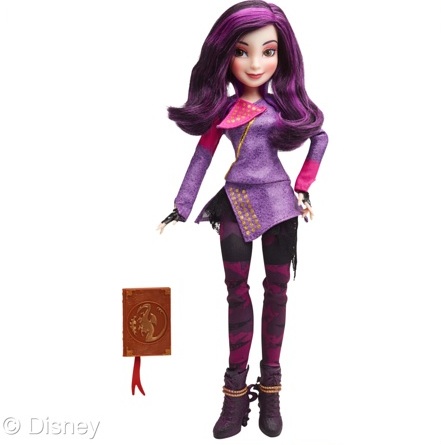 If you have been living on another planet, you might not be aware that the new Disney Channel movie Descendants has been shaking up the tween and teen world. If your child cannot stop talking about the movie or the characters, you're in luck. The new Descendants Signature Doll Assortment is hitting the shelves now. Each doll is dressed in their iconic fashions and ready for some fun at your house.
Tsum Tsums is the latest craze when it comes to stuffed animals. They are stackable with their flat bottoms. There is a wide assortment of Tsum Tsum characters in various sizes representing Disney characters. In November the "Tsum Tsum Olaf Bag with Frozen Fever" will be released. A large Olaf Tsum Tsum holds a smaller Elsa, Anna, Sven, and Snowgie (the small snowman from the Disney short film Frozen Fever. If you want a compact set that can travel with you and keep your child entertained when you go to appointments, this fits the bill. And, by the way, there are some vinyl Tsum Tsums now too.
Let's talk sports and games. Marvel and Spiderman fans can now play soccer and tennis with their characters. And for Disney Infinity players, Disney Infinity 3.0 is coming out this fall along with new Star Wars playing pieces.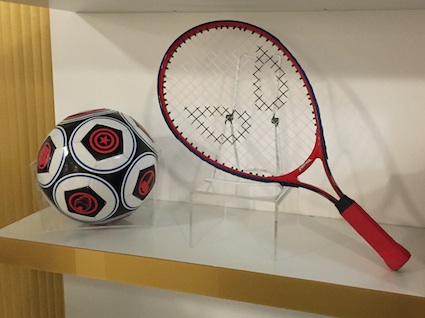 We know that little girls love having tea parties. The new Disney Princess tea sets contain cups and plates that fit perfectly inside the big plastic teapot for easy storing.
Disney Junior also has some pretty fun items for fans of Miles from Tomorrowland, Doc McStuffins, and Sofia the First viewers. Doc is now a veterinarian and has her own vet hospital where she can attend to all animals. Miles has some fun items that expand players' imaginations as well, as does Sofia.
And back to Frozen – you didn't think we were finished with Anna and Elsa yet, did you? A music box features the two princesses along with Olaf. As the song "Do You Want to Build a Snowman" plays, the sisters build the loveable snowman. This has to be one of my favorite items at the preview. Well, this and the mini dolls, and the tennis racket, and the ice palace, and… You get the idea. Everything they presented was amazing.
A radio controlled Lightning McQueen and Miles from Tomorrowland are sure to delight kids. Who doesn't like controlling their favorite character? And while we're on the subject of Lightning McQueen, a garage app keeps track of all the cars in a collection and interacts with the user. Vroom vroom.
Also for the little techies in your home, the Mickey Rocket Builder is not only a physical rocket with Mickey Mouse, but along with the app it synchs together to play in the digital world as well. Recommended for ages 3-6, it is also going to be enjoyed by older kids, and ahem, adults. And for Marvel Avengers fans, a Playmation gadget is attached to a wrist and players are guided an adventure. This is truly a "smart toy." FYI, Frozen and Star Wars Playmation sets will roll out in 2016.
No matter how long your gift list is this year, you are sure to find something in the Disney world to help. Remember, the Disney World now includes Star Wars and Marvel. There are too many great items from which to choose. But from what I saw, they are all worth considering. And we haven't even touched on the adorable Disney Baby collection.
About the Author
Francine Brokaw has been covering all aspects of the entertainment business for 20 years. She also writes about technology and has been a travel writer for the past 12 years. She has been published in national and international newspapers and magazines as well as internet websites. She has written her own book, Beyond the Red Carpet The World of Entertainment Journalists, from Sourced Media Books.
Follow her on Twitter
Like her on Facebook