Jakks Pacific and Black + Decker Junior Ready to Build Workbench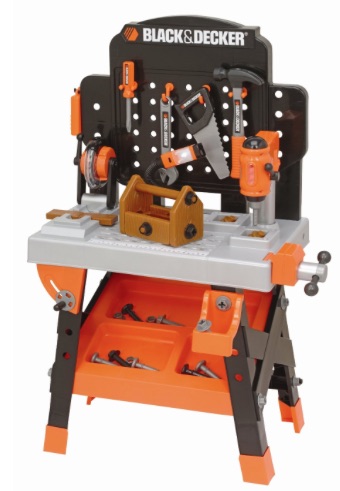 Joining forces with Black + Decker, Jakks Pacific brings young builders their own Power Tool Workshop. It's just like the adult version of the Black + Decker workbench only made for kids 3 and up.
Included in this amazing product is a battery-operated drill press, a miter saw, and a bendable flashlight so kids can work alongside dad – or mom. There are 75 tools and accessories for all kinds of "play" projects. This is the best way to play/work alongside an adult without getting injured or in any danger from real tools. Lights and sounds make this as realistic as possible and great for anyone who has a hankering to use tools but is just a little too young. It's a great starter set for anyone who loves to create and be imaginative, and is perfect for playing alone or with others.
Whirring, rotating, and zapping are fun tools of the trade, so to speak, and this little workbench is sturdy too. Just insert 4 AA and 2 AAA batteries (not included) and your little one is ready to get to work.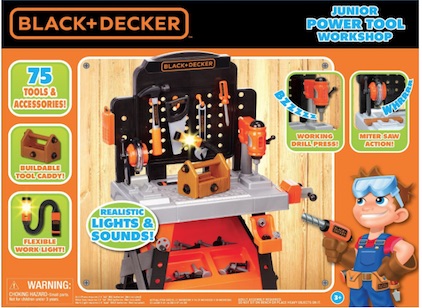 Adult supervision is needed to assemble the workbench, which sits 21 inches wide, 16.25 inches deep, and 38 inches high. It can go right alongside dad's full size workbench in the garage or in a playroom. The colors match the real tools in the orange/black/silver mode of Black + Decker.
There are places to put all the accessories once the workbench is set up and put in place. Screws and bolts, saw, hammer, screwdriver and other tools are neatly stored in their correct place leaving the workbench ready for any project. And, with their own hammer, screwdriver, and wrench, any kid is ready to tackle little jobs around the house.
Kids love to emulate adults and with this sturdy and realistic set, they are ready to let their imaginations run wild and construct, fix, and play just like dad – or mom.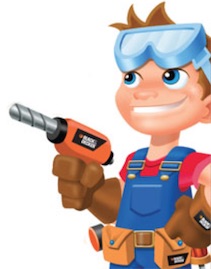 Other items from the Black + Decker Junior line of merchandise from Jakks Pacific include a Junior Toolbox, Power Tools, a Tool Belt, a storage case, a simulating snowblower, and a toy BBQ Grill. But we all know the importance and reliability of Black + Decker tools. This workbench is a way to start any child off with a brand that will be part of their lives forever.
About the Reviewer
Francine Brokaw writes about products, travel, and entertainment. She has been published in national and international newspapers and magazines as well as Internet websites. She has written her own book, Beyond the Red Carpet The World of Entertainment Journalists, from Sourced Media Books.
Follow her on Twitter