The New Dyson Cool Fans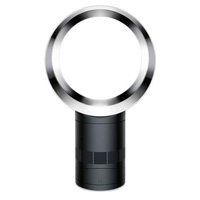 Perhaps you've seen these fans in stores or even on television shows. They are becoming quite popular and for good reason. The Dyson Cool fan is an effective as well as safe way to cool a room and now the new Dyson Cool is even quieter than the previous models. As a matter of fact, The Noise Abatement Society awarded their "Quiet Mark" to the new Air Multiplier technology used in the new generation of Dyson fans. In these days of being bombarded everywhere with noise, the quieter a fan is, the better. Face it, everywhere you go people are talking on their phones, cars are roaring down the street, and radios are blasting.  The last thing we need is a noisy fan. But what we do need is a fan that works. And this Dyson Cool is both quiet while providing a steady stream of cool air. Summer is coming, so this is the perfect time to start thinking about ways to cool off.
With no blades or wire cages to catch little fingers, the Dyson Cool fan looks like it came off the Star Trek Enterprise. It consists of a base and a top. The top is a technically advanced way of collecting air and channeling through the aperture to then blow out, or project, a powerful high velocity airflow. That's as technical as I can get, but the 65 engineers who worked on this product figured out a way to make this space-age machine work even better than the fans we are used to.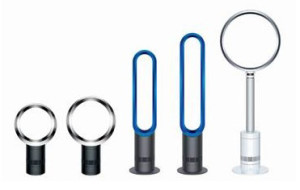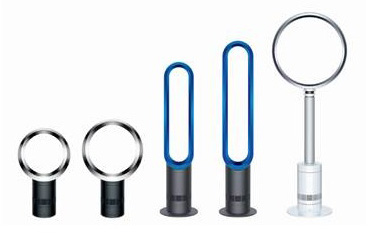 This fan is easy to use. There is a small remote control which you can keep next to you and when you need some air, just push the button. I keep mine on my desk and the fan is across the room. When the room gets stuffy or warm, I just press the button and in a moment I am cooled down, without the noise of whirring or blowing. It is not absolutely silent, but it sure is quieter than any other fan I have ever used.
What is cool (excuse the pun) about this product is the design. It can fit into any environment and looks like a piece of art. Really. And with no blades to clean, it is easier to manage. It was always a nuisance to stick my hands through the grill of my old fan to dust off the blades. With this unit just take a cloth and gently wipe around the aperture.
The safety issue of this product is something families with young kids should keep in mind. Without blades, little hands and fingers will stay safe.
In these days, when we are all trying to save money and electricity when the power grids are running low, it makes sense to turn off air conditioners and cool the one room in which we all gather. That is usually the room with the television, or the kitchen. Why not set up the Dyson Cool and use that instead of running the a/c? Once you try it you will see how powerful this little unit really is. It is truly energy-efficient. And, it has a timer so it can be set to turn off after preset intervals.
As someone who continually receives products to test, I can in all honesty say this is one item I will be using. Why do I like it so much? Because it is aesthetically beautiful, it is the safest fan I have ever used, it is quieter than any other fan I have used, It is easy to clean, I trust the Dyson name, and it does a great job. No, I am not being paid by Dyson to write this. I honestly feel it is a wonderful and useful product.
This new Dyson Cool fan is available in three color combinations: iron/blue, black/nickel/ and white/silver. There are several sizes, which range in price from $299.99 to $449.99. Check out the Dyson.com website to select the perfect fan for your needs.
About the Author
Francine Brokaw has been covering all aspects of the entertainment business for 20 years. She also writes about technology and has been a travel writer for the past 12 years. She has been published in national and international newspapers and magazines as well as internet websites. She has written her own book, Beyond the Red Carpet The World of Entertainment Journalists, from Sourced Media Books.
Follow her on Twitter
Like her on Facebook