'2:Hours' Movie Review
Category:
Movies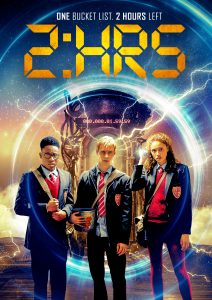 2: Hours is a journey into self-discovery as a teenager learns he has only two hours left to live. The story is thought-provoking for viewers and will have everyone thinking about what they would do if they knew their date and time of death.
Tim (Harry Jarvis) is less than a stellar student. He is a graffiti artist and takes pride in defacing walls around the city. Along with his two best friends Vic (Ella-Raw Smith) and Alf (Alhaji Fofana), they ditch their High School field trip to the museum and wander around the hidden hallways, ending up in a laboratory where a press conference is being held.
This press conference introduces a new machine that can tell how long a life has left to live. It has only been tested on small creatures like spiders, but Tim decides it's time for a human experiment so he jumps into the device and pushes the button. The machine does its job and Tim learns he has a mere two hours left to live.
The trio takes off stunned and confused. What should they do? Is the machine correct? If so, what does Tim want to do with his final hours left on earth?
They make a short bucket list and as they attempt to fulfill Tim's wishes, things don't go the way they want. They come up against obstacles and a duo of bumbling journalists hot on their trail for the story of their lives.
Tim has been a troubled teen since his father's death and a frustrating son to his mother. He has also been a horrible brother to his sister Shona (Fabienne Piolini-Castle). In these final two hours Tim examines his life and learns what should have been the most important thing to him: his family.
The movie was filmed in London and, although it is a low-budget family movie, it does have some interesting and thought-provoking concepts. The idea of knowing exactly when you will die (with the exception of accidents and violence) is an intriguing thing to ponder. While we cannot all live like this is our last day, we can think about the important things in life and the things we want to accomplish, do, and see before we die.
Director D. James Newton explained, "I'm certainly not trying to tell people how they should lead their lives but it is a maxim born out of truth as well as experience that Ovid said: 'Love is no assignment for cowards.' Tim has to recognize this for himself and in so doing is capable of transcending any fears he might have of dying too early. And only when he does so, can he actually start to live."
Newton said, "During his 'journey' he comes to realize that the most important 'things' in his life are his relationships and significantly, he decides to fix the broken ties he has with his younger sister, Shona – made worse since the recent death of their father."
The actors will probably not be familiar to American audiences as this is a true British production. The movie has had mixed reviews however it is a story that is intriguing.
About the Author
Francine Brokaw has been covering all aspects of the entertainment industry for over 25 years. She also writes about products and travel. She has been published in national and international newspapers and magazines as well as Internet websites. She has written her own book, Beyond the Red Carpet The World of Entertainment Journalists, from Sourced Media Books, is the entertainment correspondent for Good Day Orange County, and has her own TV show, Beyond the Red Carpet, on Village Television in Orange County. Follow her on Twitter.