Joanie Leeds & The Nightlights' at The Skirball Center June 21, 2014
Category:
Activities, Performances, & Events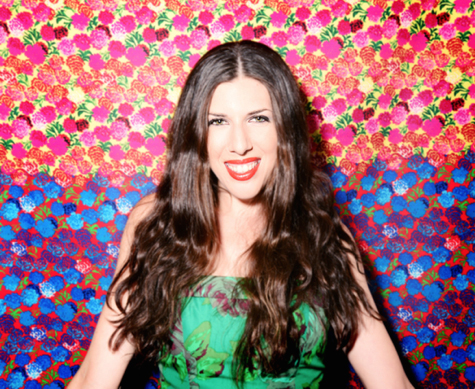 Joanie Leeds & The Nightlights' show will be a high energy, interactive experience from start to finish, showcasing such "Joanie favorites" as "Mosquitoes," "Blast Off," "Wimoweh," and "Freeze Dance," along with an array of genre-hopping tunes from Joanie's newest album, Good Egg. "Blast Off," one of Joanie's most requested and rowdiest tunes, gives kids a chance to practice counting down from 10 backwards and then jumping as high as they can when everyone shouts, "BLAST OFF!" On "Mosquitoes," kids don't even realize they're learning to clap to the beats when they join Joanie in trying to "get 'em!" Kids will move like crazy during Joanie's "Freeze Dance" song, and on "Wimoweh" Joanie and the band will encourage kids to settle down and pretend to sleep and then startle their grown-ups when they ROAR! like lions.
Joanie Leeds says, "I've never been one to stay stuck in any one particular musical style because I know kids love 'em all — rock, pop, funk, soul, ska, go-go, gospel, country — and frankly, so do I!"
WHAT: Joanie Leeds & The Nightlights Rock The Skirball Center!
WHERE: Skirball Cultural Center, 2701 N. Sepulveda Blvd., Los Angeles, CA 90049
WHEN: Saturday, June 21. TWO SHOWS: 12:00 p.m. and 2:00 p.m.
ADMISSION: $10 General Admission. $7 seniors, full-time students, children over 12. $5 children 2 – 12. Free to children under 2 and Skirball members.
INFORMATION: 310-440-4500 or the Skirball Center website.
About the Author
Francine Brokaw has been covering all aspects of the entertainment business for 20 years. She also writes about technology and has been a travel writer for the past 12 years. She has been published in national and international newspapers and magazines as well as internet websites. She has written her own book, Beyond the Red Carpet The World of Entertainment Journalists, from Sourced Media Books.
Follow her on Twitter
Like her on Facebook