'The Lion Guard: Life in the Pride Lands' DVD
Category:
Blu-ray's and DVD's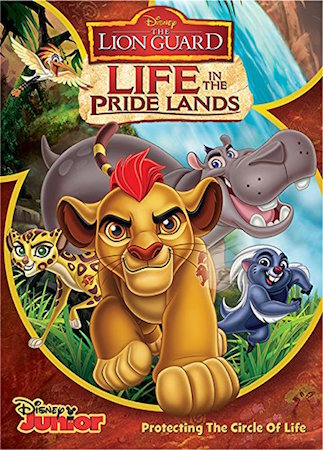 The newest DVD featuring the loveable animals of the Pride Lands and especially the five youngsters that comprise The Lion Guard: Life in the Pride Lands is filled with colorful and musical episodes. There are five episodes from the popular Disney Junior TV series.
Every episode captures the heart of the characters. In one episode little Bunga, a brave yet often pesky honey badger, finds himself stuck in a hole with non other than Simba, the King of the Pride Lands. While Simba's patience is often stretched to the max with this little guy, they realize they are closer than either of them things. Timon and Pumba raised both Simba and Bunga so, in a sense, they are like brothers. This, and the philosophy given – or sung- to them by Timon and Pumba, Hakuna Matata, helps them find their way out of the hole through a maze of caverns.
And speaking of Bunga, there is a bonus feature of six "It's UnBungalievable!" shorts. In each one Bunga and Ono look at different animals and, as they both learn and as viewers learn, there are amazing facts about each animal they examine while Bunga decides which one is the quickest (cheetahs or hummingbirds), the hungriest (hippos or bears), the cutest (baby chimps or baby cheetahs), the loudest (elephants or lions), the mightiest (lions or bears), and who has the cuter hair (giraffes or zebras).
Also included on the disc are two music videos filled with scenes from the show. The episodes are: "The Rise of Makuu," "The Kaputana Celebration," "Bunga and the King," "Never Roar Again," and "The Imaginary Okapi."
While the Lion Guard is busy keeping the Pride Land animals safe, they are a fun bunch to watch. The Circle of Life is filled with Hakuna Matata and the entertaining adventures of The Lion Guard.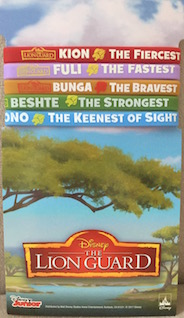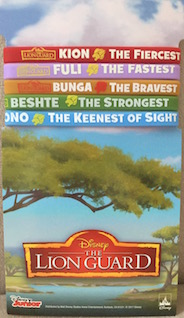 In addition to the DVD, the box contains five wristbands in five different colors and bearing the names and traits of the five members of the Lion Guard: Kion, the Fiercest, Fuli, the Fastest, Bunga, the Bravest, Beshte, the Strongest, and Ono, the Keenest of Sight. These red, purple, gold, green, and blue wristbands are fun for kids (ages 3 and up) to wear and show their support for Kion and the group.
This is a fun collection of antics featuring the loveable animals from The Lion Guard. It's, as they say in the Pride Lands, "Hevi Kabisa," or as we who don't speak Swahili say, "totally intense."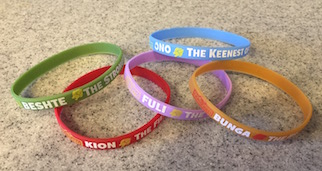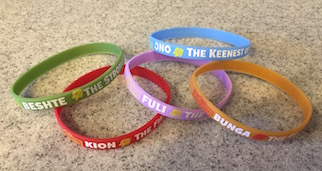 About the Author
Francine Brokaw has been covering all aspects of the entertainment industry for over 20 years. She also writes about products and travel. She has been published in national and international newspapers and magazines as well as Internet websites. She has written her own book, Beyond the Red Carpet The World of Entertainment Journalists, from Sourced Media Books.
Follow her on Twitter