The Perfect Quirk CD GIVEAWAY
Category:
Giveaways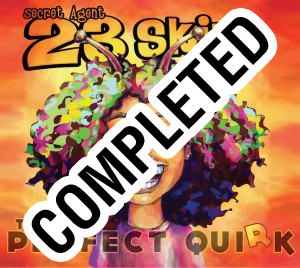 The Perfect Quirk, a raucous celebration of originality and the quirkiness of being a kid in this crazy awesome world, is the ideal soundtrack for living room dance parties or a summer vacation on the road less traveled. The tunes are classic Hip Hop spiced with Motown, reggae, club thump, blues, and the occasional pirate shanty, each one aimed at the quirky soul of the funky family.
As the proud dad of an amazing daughter who gets down to the beat of her own drum, Secret Agent 23 Skidoo knows the parent's perspective. As a kid who grew up feeling different and strange before realizing that nobody's normal, he eventually discovered the need to accept your funky self. And as a music lover who found gateways to his own understanding on CDs and cassettes, he understands his Secret Mission …
Skidoo explains, "The word 'weird' derives from the Old English 'wyrd,' which translates as 'destiny' or 'fate.' I hope this album will help kids realize that their quirks are their own funky destinies, meant to be lived to their potential. Oh yeah, and I hope it makes 'em dance like they're crazy!"
Tracks:
You're It
Unwind
Imaginary Friend
3 Pointed Back
Pillowfort Pillowfight
PJs All Day
Guess What
Caught in the Screen
Time Machine
Nightlight
We have some CDs to giveaway. To be eligible to win a copy of The Perfect Quirk, email us at [email protected] with "Quirk Giveaway" in the title. Please supply your name, address, phone number and email address (so we can let you know if you are a winner).
The deadline for this giveaway is August 1, 2014.