shopDisney launches Disney Eats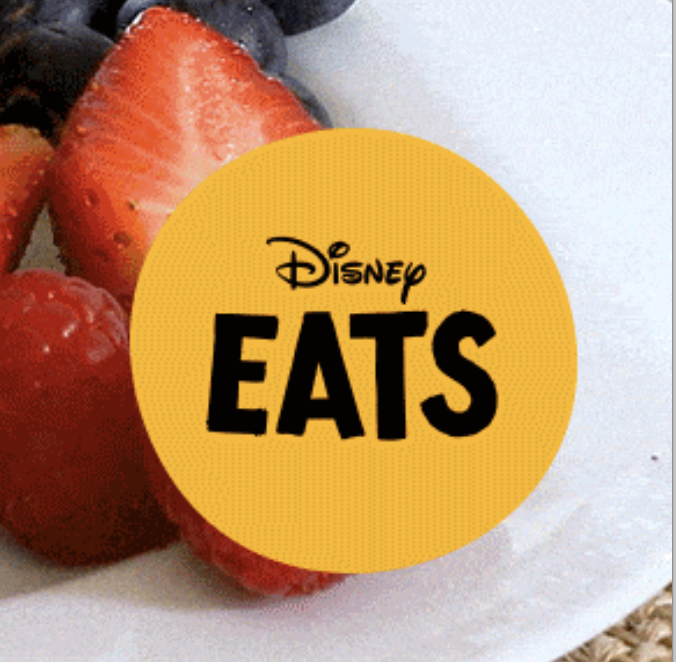 Guess what! There's a new line of products from shopDisney, and they all have to do with one room – the kitchen. April 3, 2018 shopDisney launched Disney Eats, which is a fun way for families to reconnect. After all, isn't the kitchen the room where we spend a lot of time together?
There are items for kids and adults. And every item makes cooking and baking a little more fun. Move over Julia Child. Mickey and Minnie are the new stars of the kitchen.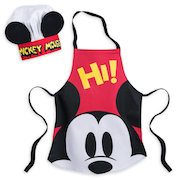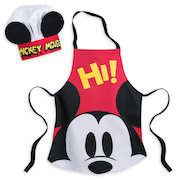 Kids can have their own chef's outfit. There is a Mickey and a Minnie Chef's Hat and Apron Set designed specifically for kids. Once a kid puts on the chef's hat, look out. He/she is going to be cooking up a real treat (with the help of mom or dad). ($19.95)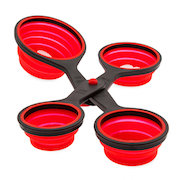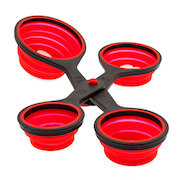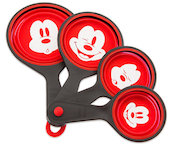 Mickey has a Measuring Cup Set with four cups – ¼ cup, 1/3 cup, ½ cup, and a 1 cup collapsible silicone measuring cups. They expand by gently pushing on the inside bottom of the cup and collapse when not in use for easy storage. They can easily fit into any drawer and each cup has a different Mickey face on the bottom of the cup. ($9.95)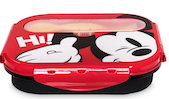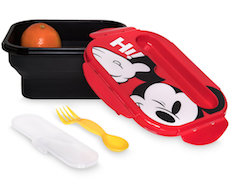 Just like the collapsible silicone measuring cups, the new Mickey Mouse Food Storage Container can expand to fit a variety of food. And there is a spork (spoon on one side and fork on the other) that tucks into the lid of the container. The entire lid snaps off and inside is the collapsible container. This makes a great item to take on car trips. It's leak-proof so you can fill it with canned or fresh fruit, salad, crackers and dip, or whatever you want. It's a handy item that can easily double as an adult container to take your lunch or snack to the office. ($12.95) There is a pink Minnie version as well.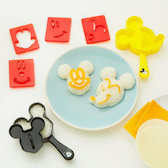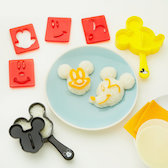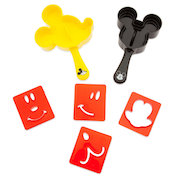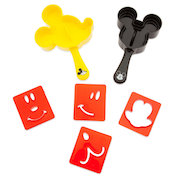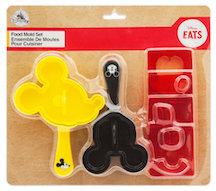 And the Mickey Mouse Food Mold Set includes two food molds and four cutouts to make food fun and enticing. You can now make dinner more fun and even vegetables will taste better when they're in the shape of Mickey Mouse. It's easy to make a Mickey mashed potato side dish or even fill a mold with rice. Oatmeal is another idea to stuff into the Mickey mold. The cutouts allow you to create special Mickey designs on the food. Be creative. ($12.95)
Besides these four fun items, Disney Eats has plenty more products – mixing bowels, whisks, spatulas, measuring spoons, towels, oven mitts, sandwich stamps, and more. They all have that Disney fun infused into every product. Most items are dishwasher safe and several are also microwave safe. For more inspiration to add some special flair to your cooking experience, check out the new Disney Eats collection at Shop Disney. Who knows – maybe your child will be inspired to be the next big chef.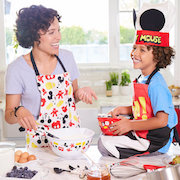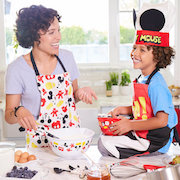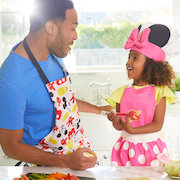 While you're on the Disney Eats website, check out Mickey's recipe for Mickey Mouse Blueberry Pancakes!
About the Reviewer
Francine Brokaw writes about products, travel, and entertainment. She has been published in national and international newspapers and magazines as well as Internet websites. She has written her own book, Beyond the Red Carpet The World of Entertainment Journalists, from Sourced Media Books.
Follow her on Twitter