Dory Talking Plush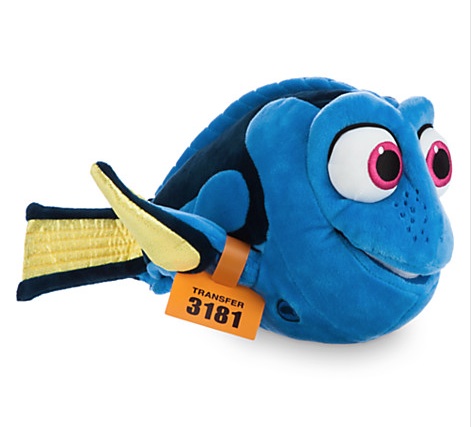 When Finding Nemo hit the screens in 2003, it was Dory who stole viewers' hearts. Voiced by Ellen DeGeneres, Dory, a blue tang fish with memory problems, now has a movie of her own which is set to open June 17. Finding Dory is Disney's big summer animated film, and along with the film there are plenty of corresponding merchandise items that are sure to be desired by fans of the film, and especially fans of Dory.
The Dory Talking Plush is a 14-inch cute and cuddly stuffed Dory that moves her fins and lips when her button is pressed. She speaks seven phrases from the film voiced by Ellen.
"Hello there. Do you know me? Oh no, I'm sorry. I suffer from short-term memory loss. You found me! How did you find me?"
"Hi, I'm Dory. Excuse me. Hi. So, I'm looking for my family. I guess we'll hang out another time. Don't be a stranger."
"You know I speak whale…"
"Hello, hello. Can you help me? Hey guys, I'm looking for my family. Got it. What was the first part again?"
"I remembered something. I actually remembered something. Something important. We better get going. I'm sorry, did I forget again?"
"Hey man, don't touch my tag. Wow. I'm so glad I found you."
And she speaks a phrase in whale! Well, kind of in whale.
Dory is soft and cuddly and if you don't want her talking all night in your child's bed, simply turn off her switch which is located in her stomach and accessed through a Velcro-closing pocket.
This Dory cannot go into the bathtub, but there is one that does – the Dory Swimming Action Figure. Plus, there are plenty of other great items in the Finding Dory collection from the Disney Store.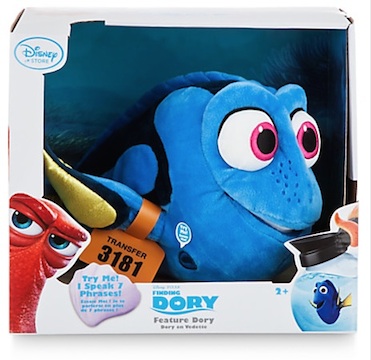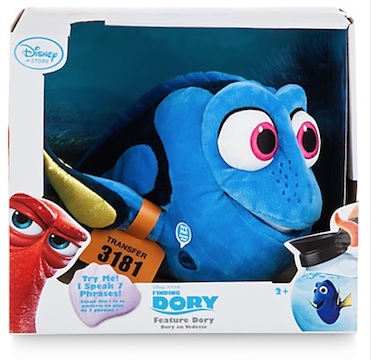 About the Reviewer
Francine Brokaw writes about products, travel, and entertainment. She has been published in national and international newspapers and magazines as well as Internet websites. She has written her own book, Beyond the Red Carpet The World of Entertainment Journalists, from Sourced Media Books.
Follow her on Twitter