HydroChic Land and Water Clothing for Women
| | |
| --- | --- |
| Ages: | 10+ |
| Price: | $29.50 - $90 |
| Website: | HydroChic |
| Year: | 2016 |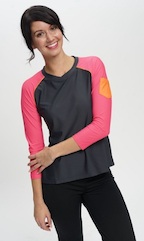 HydroChic is a company that has answered the prayers of millions of women around the globe. Their clothing is appropriate for lounging, swimming, exercising, and everyday wear. So, what makes their products so appealing to women? It's the fact that they can be worn over swimwear or as swimwear, without compromising modesty. Whether you have religious concerns about showing too much skin, are sensitive about your body image, or simply want something comfortable and can serve a variety of situations, HydroChic is the answer.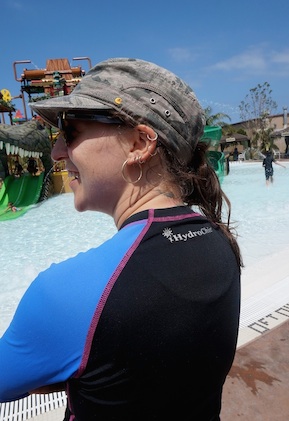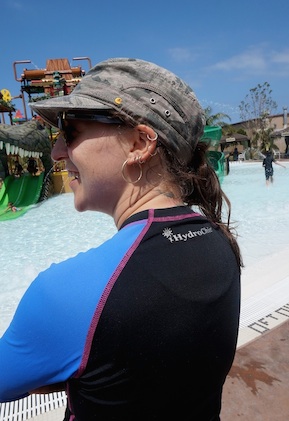 Actress Mayim Bialik (The Big Bang Theory) recently endorsed the company. She is religious and conservative in her attire and posted on her Facebook page, "I've written about 'modest swimwear' before but I just got the new spring catalog for HydroChic Sun Protective Swimwear & Activewear and I wanted to post it. I am not being paid to do this, I just want to share it because I think it's important to get this resource out there…they have a ton of options and 'plus' sizes … for all levels of comfort, modesty-wise….my previous HydroChic suit lasted for YEARS."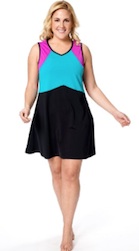 "HydroChic is designed to enhance a woman's natural beauty and flatter her body, while offering a range of protection and modesty options that fit her lifestyle," says HydroChic co-founder Sara Wolf of New Rochelle, NY. "Many women of all ages are seeking alternative swim solutions to the traditional bathing suit, because, let's face it, we can't all wear a bikini."


Every piece of clothing can be worn in the water, but they also look great as cover-ups over traditional suits and can simply be worn around and as exercise clothing. The material is chlorine resistant and chlorine proof, and fast drying. Plus they have clothes that have UPF 50+ sun protection. Whether you are an XS or a 4X, they have a variety of mix-and-match tops and bottoms.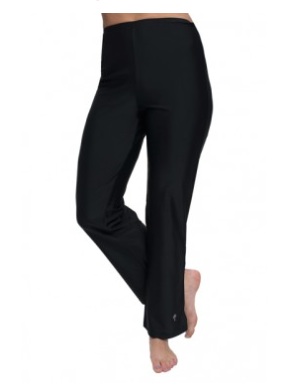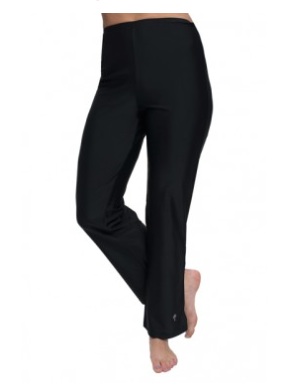 Personally, I am not comfortable in "Yoga Pants." But I feel very comfortable in the Long Swimpants. They are called swimpants, but they are great to wear when exercising, running errands, or taking a walk. And if I happen to be near the beach – or a pool, I can wear them there too. This is a great pair of pants to wear when on vacation, say, in Hawaii. Now women don't have to worry about getting their pants wet when taking a walk along the beach after dinner. And if you plan on having pool parties for your friends or your kids this summer, this is the best way to look stylish while at the same time being able to take a dip yourself. And post maternity moms who often feel like hiding their bodies get the coverage they want while still looking stylish.


The styles range from $29.50 – $90 and are available at select stores throughout the US, Canada, Australia, South Africa and Israel, and online at www.hydrochic.com. Besides pants, they have a variety of tops, capris, skorts, dresses, skirts, shorts, and jackets, which are all great for home or resort wear. And for women who are not modest, there are plenty of styles that won't make them feel like they are wearing something out of their realm. For instance, there is an adorable swim short with hidden shorts and a cute colorblock swim n' tennis dress. And the tops are perfect for all ages. Think about getting some for your girls – or yourself – to wear over swimsuits after getting out of the pool or at the beach. There are some pretty colors from which to choose too! The sea blue is beautiful.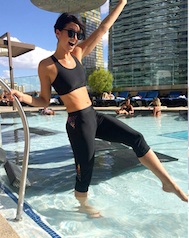 Whether you want something to wear in or out of the water while maintaining some sense of dignity and style, HydroChic has something for you. And if you order one of their tops, you get a complimentary swim and sports bra.
About the Reviewer
Francine Brokaw writes about products, travel, and entertainment. She has been published in national and international newspapers and magazines as well as Internet websites. She has written her own book, Beyond the Red Carpet The World of Entertainment Journalists, from Sourced Media Books.
Follow her on Twitter