'Incredibles 2' Jack-Jack Attacks doll from Jakks Pacific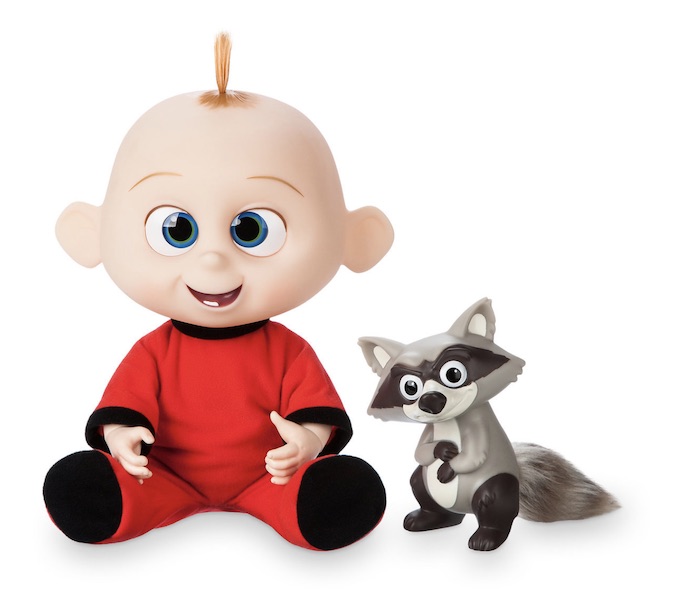 By now you probably know that baby Jack-Jack steals the movie Incredibles 2. This adorable little baby unleashes his super powers throughout the film.
Jakks Pacific has created a fun doll that not only looks cute and will ultimately be a child's friend, but also has lights and sounds. Beware, this cutie shows off his super powers – in a less dangerous way than the one on screen.
Jack-Jack himself measures about 10 inches tall in a sitting position and 13 inches high when he's standing. That's not counting the little tuft of hair on top of his head. He's not soft and plush because he is interactive! Press his tummy and hear him laugh. But when he gets angry, watch out. His head turns colors and his blue eyes light up, while crying. But once he is over his "tantrum" he chuckles and is back to normal.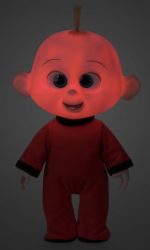 Sometimes his head turns red and his eyes light up, accompanied by the "laser" sound. After all, this little kid has laser eyes that can cut through anything. That's the Jack-Jack in the film. This doll just imitates that, so a child can use his or her imagination while playing with this little fellow.
Pressing his tummy elicits several reactions from the baby. When he sneezes (as he does in the film), his head lights up and he chuckles. Another time he can become almost electric, with buzzing sounds and flashing head.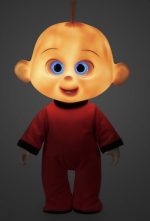 Did you know Jack-Jack can teleport from one room to another? Imagine that. When his tummy is pressed and he "teleports" his head turns blue. Imagination is key when playing with this little guy.
And Jack-Jack comes with a raccoon "friend." This hard- plastic raccoon is a little over five inches high with a fluffy tail. He's ready to "play" with his on-screen nemesis, baby Jack-Jack.
It's sweet when he says, "Mama." His baby babble is also adorable.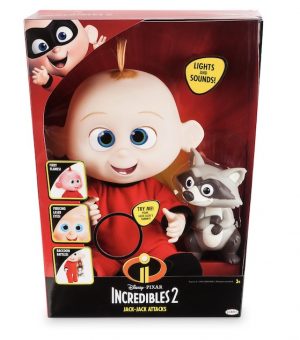 When you first take this little guy out of the box, open the back of his red suit and turn him to the "I" mode. This is the interactive mode. Then press his tummy for his reactions. When you hold the button down, he really turns on all his super powers, so watch out.
When you see his smiling face, you cannot help but smile yourself. He's adorable. He'll definitely be a fun pal for kids throughout this summer and beyond.
Incredibles 2 Jack-Jack Attacks comes complete with lights and sounds and his raccoon pal and is intended for ages 3 and up. He comes with 3 AAA batteries.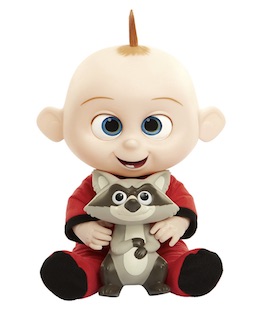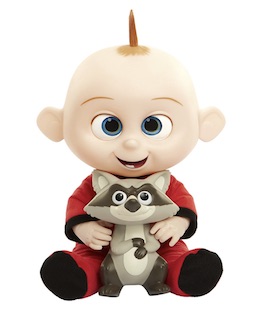 About the Reviewer
Francine Brokaw writes about products, travel, and entertainment. She has been published in national and international newspapers and magazines as well as Internet websites. She has written her own book, Beyond the Red Carpet The World of Entertainment Journalists, from Sourced Media Books.
Follow her on Twitter