Wooden mechanical models for a fun family activity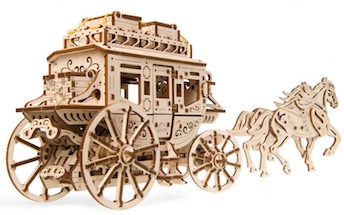 Are you looking for something new to do with your family? How about creating a 3D mechanical wooden model? UGears and Wooden City both make moveable wooden models that do not require glue and are eco friendly. Forget about those old plastic models from the craft store. Try creating an elaborate wooden reproduction of a windmill, jeep, train, or just about anything else. And, the fun doesn't end once you are finished creating your item.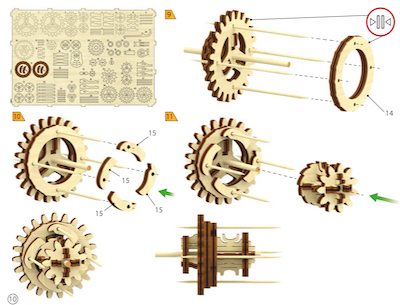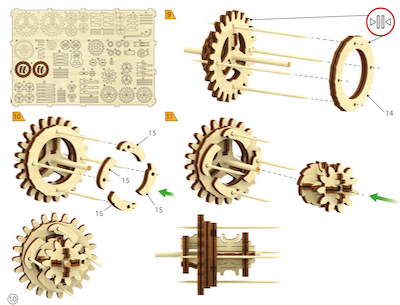 The pieces come on a slim wood slab. Press the perforations to release the individual pieces. They are numbered and the instructions are easy to follow. The pieces are then press-fitted together. While this sounds super easy, think again. It's not difficult but it is time consuming and a wonderful family project.
There are many different items to create. Putting them together is only half of the fun. Once they have been created, these objects are then moveable.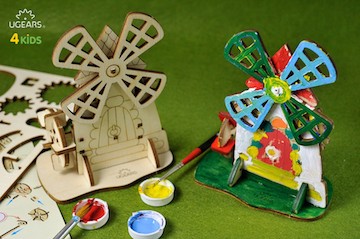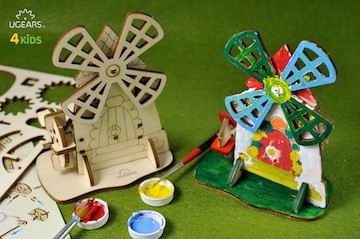 If you put together the UGears Locomotion, there are spinning gears, pistons that move, and the train becomes another fun item in your house, not to mention the fact that the kids will be able to brag that they helped create it. If you have a child who wants to create something by themselves, there are some UGears 4 Kids kits that are not as intricate as the other kits. Kids can use their own markers or paint to paint them when they are done putting them together. This company, out of Ukraine, started the moveable wooden model industry that has become a fun activity for all ages. UGears has won several Family Choice Awards!

Wooden City (from Poland) came around a few years after UGears and have designed their own great 3D models to create moveable objects. The Ferris Wheel is especially interesting once it has been assembled. It really works. Or try assembling your own Jeep, with moving wheels and parts. There are 569 individual parts in the Jeep (4X4) kit. The company says it should take about 12 hours to make this wooden vehicle. Talk about a great family undertaking. The Mill (Windmill) has 222 parts and when assembled the blades do rotate just like a real one.

Both UGears and Wooden City offer a variety of wooden model kits, ranging in size and price. With levers, gears, wheels, etc., they become moveable fun once they have been assembled.
About the Reviewer
Francine Brokaw writes about products, travel, and entertainment. She has been published in national and international newspapers and magazines as well as Internet websites. She has written her own book, Beyond the Red Carpet The World of Entertainment Journalists, from Sourced Media Books.
Follow her on Twitter