MyPillow Mattress Topper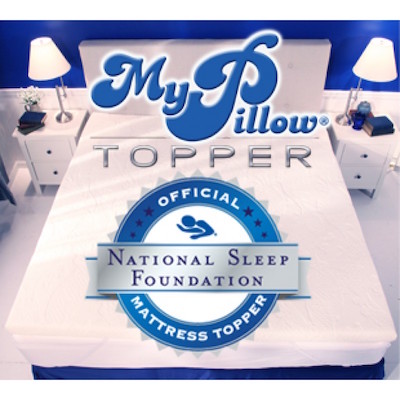 If you're thinking about buying a new mattress, the MyPillow Mattress Topper might be the way to go instead of purchasing a completely new mattress. This high-density foam topper could save you thousands of dollars on a new mattress.
The MyPillow Mattress Topper is three inches thick. That's a lot of foam. It supports your body with what they call "zero gravity" so the foam cradles your entire body. Pressure points are caressed.
With their "ThermaPhase Gel Technology," the topper is meant to keep your body at the right temperature all year long. There is a removable cover that comes with the topper so it's easily washable. The topper is made from CertiPure-US flexible polyurethane foam. With the attached straps, it is easy to place on top of your existing mattress and won't shift or move during the night.
This is a nice little – or not so little if you select the king size – product for campers, camping, and those mostly-uncomfortable RV beds.
I tried this topper and although I love my regular air mattress, this added additional support. This is exactly what I would want in an RV. Those mattresses are quite uncomfortable, but when you purchase an RV you really don't have any choice. You get what it comes with. But now with this MyPillow Mattress Topper, you can make your RV as comfortable as your home bed.
And this is something that college students will embrace. Dorm beds are awful. I remember mine. If I had this mattress topper when I went to college, my nights would have been much more comfortable.
With the 60-day money-back guarantee, there is no reason not to try this topper. And it comes with a five-year warranty.
Families might get extra benefit from this topper by putting it in minivans or station wagons. That way your child has a comfortable mattress for long road trips.
The company says this product is portable; however if you do get the king size, remember it is large so in my experience that size is really not portable. However the smaller sizes could easily be transported from one place to another.
My suggestion is to try the MyPillow Mattress Topper if you want to save money and not purchase a brand new mattress. Also, I highly suggest this for college students.
The MyPillow Mattress Topper is available in sizes Twin, Twin XL, Full, Queen, RV Queen, King, and California King. Check their website for prices and promo codes.
About the Reviewer
Francine Brokaw writes about products, travel, and entertainment. She has been published in national and international newspapers and magazines as well as Internet websites. She has written her own book, Beyond the Red Carpet The World of Entertainment Journalists, from Sourced Media Books.
Follow her on Twitter