ShopDisney adds a new element to the Lilo micro play set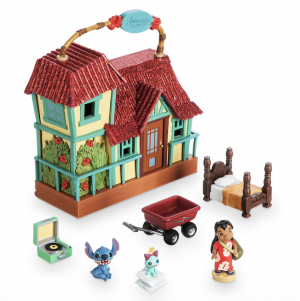 The popular Animators' Collection from ShopDisney has been around for a little while. They are miniature homes for the characters in the line. So far they have offered a micro play set for Ariel (underwater castle), Tinker Bell (woodland home), Belle (cottage), Snow White (cottage), the Frozen sisters (castle), and now Lilo's house. Every set includes several characters and accessories that all fit into the portable homes and each set includes a surprise figure.
The new Lilo Surprise Feature Playset has all of these and more. Yes, there is still a surprise item included in the set, along with Lilo, Stitch, Scrump, a wagon, record player, and Lilo's bed. But wait. There is a new surprise. Stitch activates the front door, which swings open when he sits on a specific location. And when he sits on another location the house lights up. And the third location starts "The Hawaiian Roller Coaster Ride" song. The batteries are included and when they run down it's easy to replace them through the little hidden door on the bottom of the house.


Lilo's house is colorful and portable. When the back is opened, it turns into a little playhouse for the micro dolls. There is a surfboard inside however it's not moveable. It is attached to the wall.
The only way to activate the music, light, and door is by placing Stitch on the Plumeria flower designs on the floor. Your finger won't do it, nor will anything else. Stitch is the only one who can activate the special features. What else would you expect from Experiment 626?
Lilo's playset, along with the others in the line, are great for traveling. They're compact and every one has a little handle for tiny hands to hold while carrying to the car, a play date, or grandma's house. The electronic features make this a special set and hopefully there will be more electronic play sets coming down the road. They are just an added element to these already fun sets.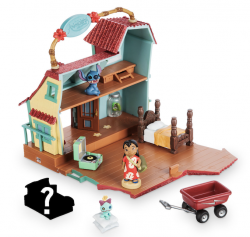 Because the characters and accessories are small, these play sets are for ages 3+.
Those clever folks at ShopDisney have once again outdone themselves with the added elements in this playset.
About the Reviewer
Francine Brokaw writes about products, travel, and entertainment. She has been published in national and international newspapers and magazines as well as Internet websites. She has written her own book, Beyond the Red Carpet The World of Entertainment Journalists, from Sourced Media Books.
Follow her on Twitter