Zagg Keyboard and Screen Protection for Your Tablet
Zagg is a unique company created out of ingenuity and necessity. When the founder, Phillip Chipping, wanted to find a way to protect his new watch from scratches and chips, he discovered a film the military used to protect their helicopter blades. Well, if it was good enough for the military, it was good enough for him. He founded a company that produced lightweight shields to protect all our devices: iPhones, iPads, iPods. The company is now Zagg and this company produces an array of products to keep our devices safe as well as help users get the most convenience out of all our expensive devices.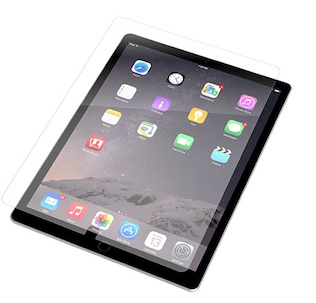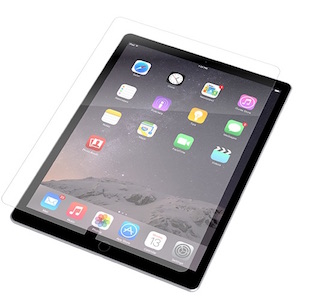 First of all, they have several Invisible Shields for various products, made out of a variety of elements. Their newest is called the "Sapphire Defense" and is applied easily to your iPhone to keep the screen safe. Why sapphire? Jewelry aficionados know that sapphires are second only to diamonds in hardness. This Invisible Shield is smudge resistant and easy to apply, leaving your screen with the clarity that all users demand. There is no distortion. Once applied, the screen is clear, resists smudges, and absorbs impacts that would damage it without the protection.
This Sapphire Defense Invisible Shield protects your screen from shattering 7 times more than without it. The sapphire infused crystals make all the difference in this product. Diamonds may be a girl's best friend, but in this case, girls and boys alike will agree sapphires are number one.

The Sapphire Defense is not currently available for the iPad Pro 12.9 inch so you'll have to wait just a little longer. In the meantime, if you purchase one of these new large iPad Pros, protect it with the Invisible Shield Glass. This is good protection for this device repelling skin oils and keeping the screen clear and safe.
If you do have an iPad Pro 12.9 inch, so far the largest on the market, you'll discover this is like a laptop without all the ports and some of the convenience. However that is easily fixed with Zagg's Slim Book. The Slim Book is a combination keyboard, case, and stand.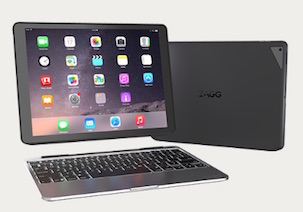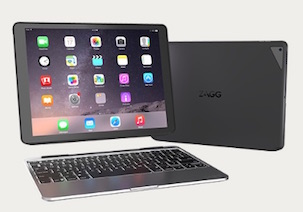 Using the iPad Pro 12.9 inch without an additional keyboard is fine for some circumstances, but the keyboard on the screen takes up valuable screen real estate. And it's not as easy to use for those of us who are used to typing on keys. This keyboard uses Bluetooth technology so there are no wires connecting it to your tablet. Just pair it with your device and you're ready to start typing on real keys. The entire keyboard is convenient and comfortable for your palms to rest and your fingers to reach the keys.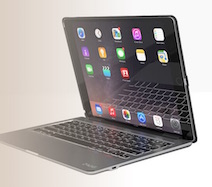 Another great aspect of this keyboard is the keys are backlit. So when you are in a dark ballroom listening to a lecture and want to type notes, just press a button and a soft colors light backlights the keys. I have found this aspect extremely handy, not only in ballrooms, but in other situations as well.
The Slim Book also serves as a case to keep your tablet safe. Line up your tablet and click it into the case. Now, if you have your Invisible Screen on and your tablet secured in the case, you can feel comfortable knowing you have a safe tablet to carry as is. However, there is more.
The case now can connect to your keyboard. To pair the keyboard to your device, simply make sure your Bluetooth is turned on, press the fn button on the keyboard and either 1, 2, or 3. Your device will automatically find the keyboard and a blue light will flash telling you you're all set. Now, if you want to pair your iPhone or another device to the keyboard, repeat this process (using a different number.) How cool is that? You can have several devices paired to use the keyboard. The easy Quick Start guide will help you set everything up in just a minute or two, including instructing you how to use the backlight and other options.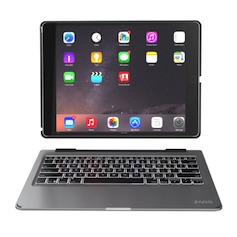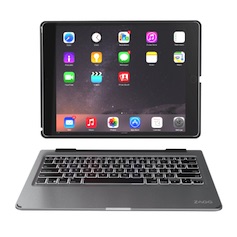 There is more to this Slim Book. With the hinges that connect the case to the keyboard, you have the ability to angle the screen to suit your needs. And, hold onto your hats, you can turn it around to "book mode" so you can read without the keyboard in your way. And the "video mode" lets you also view your screen without the keyboard in front of the screen. This is courtesy of the magnetic hinge that lets users flip the case.
If you get the idea that I am excited about this product, you are correct. I have been using it and it is amazing. It turns your iPad into a laptop, and it's easily convertible to various modes. And when you just want to carry your screen without the keyboard, just pop it off. It's that easy.
The Slim Book for iPad Pro 12.9 inch sells for $139.99. The Invisible Shield Glass for iPhone 6/6s Plus sells for $34.99. The Invisible Shield Sapphire Defense for iPhones sells for $49.99. The Invisible Shield Glass for iPad Pro 12.9 inch sells for $64.99.
About the Reviewer
Francine Brokaw writes about products, travel, and entertainment. She has been published in national and international newspapers and magazines as well as Internet websites. She has written her own book, Beyond the Red Carpet The World of Entertainment Journalists, from Sourced Media Books.
Follow her on Twitter