Banana Phone – Product review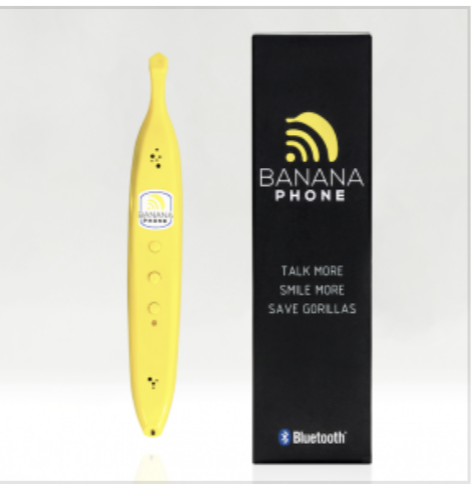 If you're looking for something unique, fun, and useful, look no further. The Banana Phone fits the bill. Plus, when you purchase one you will also be helping to conserver the gorilla population. I kid you not. This is an inventive little gadget that really works.
The folks at Banana Phone have come up with the perfect gift for the holidays, birthdays, or just because. So, what exactly is a Banana Phone? It's simply an adjunct to your cell phone. Once charged, this device can link up via Bluetooth on you cell phone. Then it's ready to use.
The plastic banana has a speaker, a microphone, a micro USB port for charging, a multifunction button, and a volume up and a volume down button. How simple is that?
To pair the Banana Phone to your smart phone, simply charge the banana and then open the Bluetooth menu on your smart phone. Click on Banana Phone option on your cell phone and instantly the banana is synched to your smart phone. When you want to make a call, double click the multifunction button and say, "call Fred" (or anyone else you want to call). The Banana Phone calls Fred (or anyone else you asked it to call). It's simple. It's useful. And it's fun.
With the voice activation you can easily send and receive messages just like you would on your smart phone without the screen. The messages are vocalized in the same way. It's simply an extension of your smart phone. And, if you want to check the weather in Miami, simply double click the Multifunction button and ask Siri (or your voice connection) about it. Anything your voice activation can do on your smart phone, the Banana Phone can do.
And, to answer a call, click the Multifunction button once and you're connected. Also, if you don't want to talk to the caller, all you have to do is hold down the Multifunction button and you won't be disturbed.
This Banana Phone is a great conversation starter. Imagine having it in your bag (along with your smart phone) when you are at a party. Then pull it out and call a friend. You'll have everyone staring at you, and smiling. This is a fun little phone that is useful as well as brings some happy to those who use it. And another fun aspect is the Multifunction button also plays music.
Now, the second reason to purchase this fun little item, besides the reasons mentioned above, is the conservation aspect. I adore monkeys and gorillas of all kinds. Just look at my plush animals collection!
The company has joined with Gearing up for Gorillas to help save the gorilla population. The company donates 1% of their sales to gorilla conservation.
The three founders of the company originally began with a crowdfunding campaign in 2017 and it immediately caught the attention of people around the world. And if this sounds familiar, yes, they did take the Banana Phone to Shark Tank.
The goal of the company is to inspire people to talk more, smile more, and save the gorillas.
The Banana Phone is rechargeable. Talk time is about 20 hours and idle time is approximately 120 hours.
I was sent this little unit to test for review. When I opened the box and pulled out the Banana Phone, I immediately thought it was a cool device. Then when I started using it, I was hooked. It's fun and makes a great gift. And don't we all need a little more fun in our lives?
Do I like the Banana Phone? Absolutely. Do I recommend it? Absolutely.
About the Reviewer
Francine Brokaw writes about products, books, travel, and entertainment. She has been published in national and international newspapers and magazines as well as Internet websites. She has written her own book, Beyond the Red Carpet The World of Entertainment Journalists,  is the entertainment correspondent for Good Day Orange County, and has her own TV show, Beyond the Red Carpet, on Village Television in Orange County. Follow her on Twitter.