Disney introduces Origins series to Animators' Collection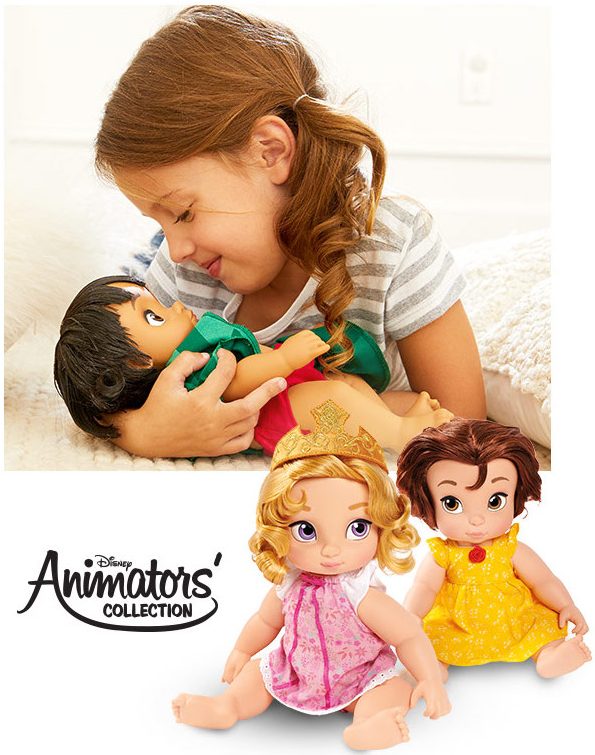 One of the most popular lines of dolls and animals from the Disney Store and shopdisney is the Animators' Collection. The latest in this line is the Origins series. These dolls are for ages 2+ and depict the adorable characters as babies. The original Animators' Collection dolls were geared for ages 3+ and the characters were  depicted as toddler age. The Origins are smaller in size and much younger characters. They are babies.
At this time there are three different dolls in the new Origins Series: Aurora, Belle, and Mowgli. Each doll has a soft body with poseable soft plastic legs and moveable soft plastic heads as well as rooted hair. They are each 12" long when lying down.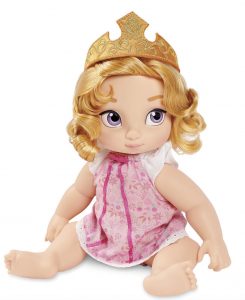 The boxes are designed for each character. They are decorated to fit they story of the children and Baby Aurora's box says, "Inspired by the character design from Disney's Sleeping Beauty, this young interpretation recaptures the gentle nature of the original character. Her dreamy face it accented by her signature crown and blonde curls." As a matter of fact, this little baby looks exactly like the baby Aurora in the animated movie, although she was only seen for a short time. That baby Aurora endeared herself to audiences of all ages.  Aurora is dressed in a beautiful pink dress with matching diaper. She has a soft crown that can be removed. Her violet eyes and sweet smile will touch the hearts of adults and collectors, but she will be loved and played with by youngsters for a very long time.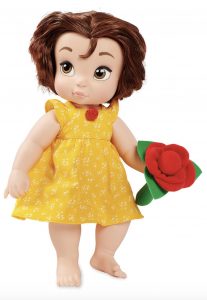 Belle's box says, "Inspired by the character design from Disney's Beauty and the Beast, this young interpretation recaptures the kindness of the original characters. Her eyes sparkle with curiosity and compassion foretelling her true beauty."  Baby Belle is dressed in her signature yellow dress with a rosette on the front. She comes with a soft plush rose rattle that she can hold and when shaken it really does rattle.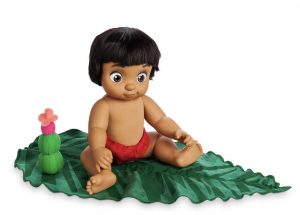 And little Mowgli's box says "Inspired by the character design from Disney's The Jungle Book, this young interpretation recaptures the joyfulness of the original character. His smile and fun-loving attitude warm the hearts of his jungle family." Baby Mowgli is really endearing with his sweet smile and his very wide eyes. He is eager to explore and to be loved. Mowgli comes with a soft plush prickly pear rattle that he can hold it does make noise. He is dressed in a loincloth and also comes with a green blanket in the shape of a leaf. Mowgli's little face will melt everyone's heart. He is so loveable that everyone, boys and girls, young and old, will enjoy having him around. His "skin" and "body" are dark tan and this little jungle boy is ready to be loved. It's great to have this little boy in the collection.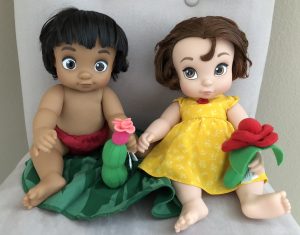 Each doll in the new Animators' Collection Origins Series can sit and lie down. They have soft bodies for little hands to hug and all three are completely adorable. Collectors will love to have them in their collections, but more than that, kids will love them and they will undoubtedly be favorite sleeping pals and best friends to little kids. They're small enough to take in the car and for play dates, and especially to bed. This new series is a wonderful addition to the Animators' Collection. Just one look and they'll steal your heart.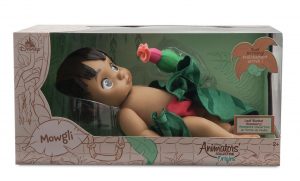 About the Reviewer
Francine Brokaw writes about books, products, travel, and entertainment. She has been published in national and international newspapers and magazines as well as Internet websites. She has written her own book, Beyond the Red Carpet The World of Entertainment Journalists, from Sourced Media Books.
Follow her on Twitter