Doctor Plotka's Mouthwatchers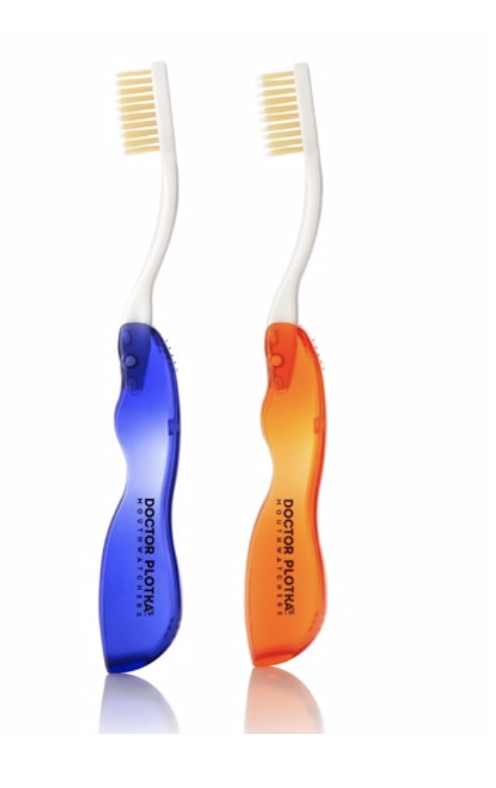 Oral hygiene is important. If you're like me you usually have a toothbrush with you when you're going to be out all day. But when it comes down to it, are the travel toothbrushes safe and clean? Doctor Plotka's is an all-in-one foldable toothbrush that easily fits into a pocket, gym bag, purse, or backpack.
These foldable toothbrushes (invented by a dentist) are infused with silver to eliminate 99% of bacteria on the bristles, according to the website. The bristles are also positioned to clean at the gums and between teeth. They're not floss but they do clean well. The bristles are thin to reach between teeth and into crevices. The company sent me some samples and I like the fact that they are antimicrobial.
If you work in an office and drink coffee, tea, soda, or snack at your desk, it is a good idea to keep a toothbrush handy. Brushing after drinking helps with oral hygiene. And it's always a good idea to brush after lunch. This handy little toothbrush easily stores in a desk drawer without having to keep a separate pouch for it.
And teens in school definitely need to have a toothbrush in their lockers. For students with braces it is a must. When your mouth is fresh and clean you feel fresh and clean.
Long plane rides are another time when this foldable toothbrush comes in handy. With the tiny travel size toothpastes, the two items take up almost no space.
For travel, work, school, or whenever, this is a handy item. It's never too young to start an oral hygiene habit. Keeping teeth clean and healthy is much easier – and way less expensive – than dealing with oral problems later in life.
About the Reviewer
Francine Brokaw writes about products, books, travel, and entertainment. She has been published in national and international newspapers and magazines as well as Internet websites. She has written her own book, Beyond the Red Carpet The World of Entertainment Journalists, is the entertainment correspondent for Good Day Orange County, and has her own TV show, Beyond the Red Carpet, on Village Television in Orange County. Follow her on Twitter.