Moana Saves a Turtle – Disney Animators' Moana Mini Doll Play Set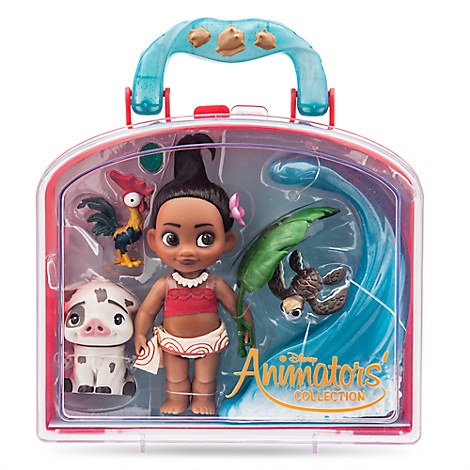 For anyone who has seen the film Moana (and that includes most people), a memorable part of the story is in the beginning when a very young Moana discovers the ocean. This adorable little girl is filled with a kind heart and when she sees a baby turtle trying to crawl over the sand to get to the water, she takes a large palm frond to shelter it from predator birds. She wobbly walks next to the turtle shielding it until it is free in the ocean.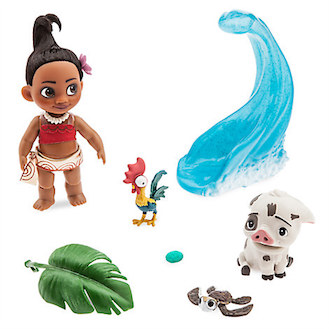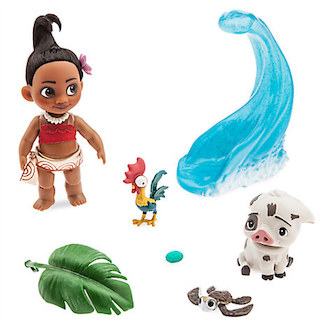 The new Disney Animators' Moana Mini Doll Play Set lets kids play out their own scene with little Moana and the turtle, as well as put their imaginations to work creating other situations for her, the turtle, the water, HeiHei the rooster, and Pua the pig. This newest play set includes all of these as well as an amulet. They come in a plastic carrying case so kids can easily take them from one place to another.
Little Moana is about 5 inches high but with her wave hairstyle, she is almost an inch taller. Remember back to the film when the water pulled her hair high above her head? That's what this doll represents. That first encounter the little girl had with not only the turtle, but with the ocean. Moana means ocean and this character has a unique relationship with the ocean. Moana has a pink flower in her hair, wears her shell necklace, and a sweet smile on her face. She is more than adorable. She's precious and articulated with moving legs, arms, and head. This little Moana can stand on her own.
Pua measures almost three inches high and is a bobble head representation of Moana's pet pig. HeiHei, the crazy chicken, is about two inches high.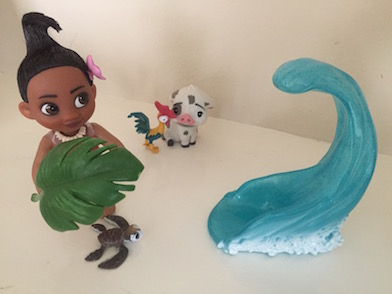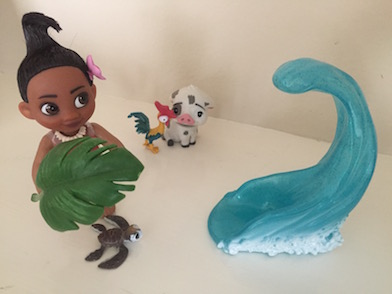 The palm frond is sculpted with a little handle to let Moana hold it while protecting the turtle. Plus, there is a five and a half inch-high sculpted wave. After all, what would Moana be without water?
With all of these elements included in this set, young imaginations will be entertained for hours. And the case makes it great to take along in the car or to a play date. The dedication to detail is amazing. On the handle of the case are sculpted shells.
Due to the size of some of the objects, this play set is for ages 3 and up. This Disney Animators' Mini Doll Play Set lists for $19.95.
About the Reviewer
Francine Brokaw writes about products, travel, and entertainment. She has been published in national and international newspapers and magazines as well as Internet websites. She has written her own book, Beyond the Red Carpet The World of Entertainment Journalists, from Sourced Media Books.
Follow her on Twitter