Fun new Animators' products from Disney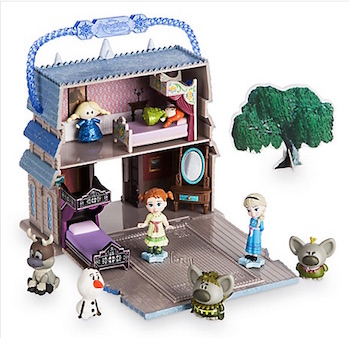 The Animators' Collection from Disney has just added some great new products. The collection depicts Disney characters as youngsters and has become popular among both adults and children.
There seriously cool new products for kids.
Animators' Collection Melamine Plate Set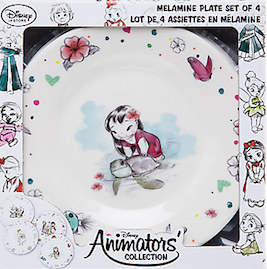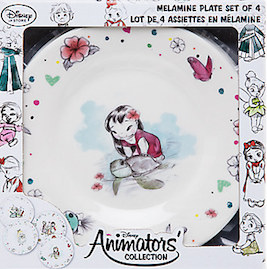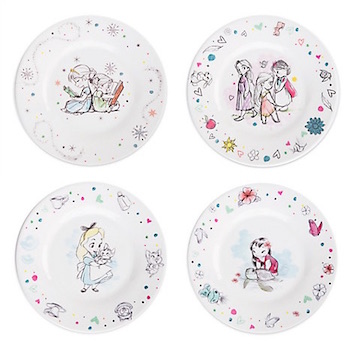 The set of four plates are a fun way for kids to eat their snacks or sandwiches. The plates each measure six inches in diameter so they are not big enough for an entire meal, but are perfect for cookies, a small sandwich, or some fruit. They are dishwasher safe but not microwaveable safe. The four plates depict a young Lilo, young Alice, young Elsa and Anna, and a trio of Rapunzel, Snow White, and Pocahontas.
These colorful plates not only have the main character in the centers, but the entire boarders are covered with art that reflect the characters' stories. The set lists for $14.95.
Animators' Collection Teacups for Kids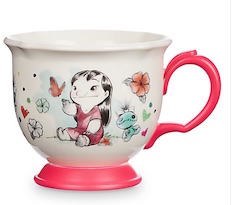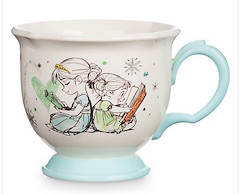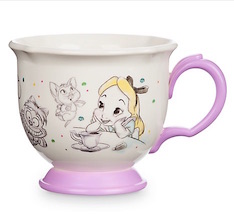 There are three different small cups for kids, which go along great with the plates. These cups are not dishwasher or microwaveable safe and are not for hot liquids, but they are good for a cold cup of milk. Each cup holds 4 ounces and each has a sturdy handle.
It would be nice to pair a cup with a corresponding plate for an evening snack.
The three cups are: Lilo, Elsa and Anna, and Alice. They are sold separately and each lists for $7.95.
Animators' Collection Postcard and Paint Set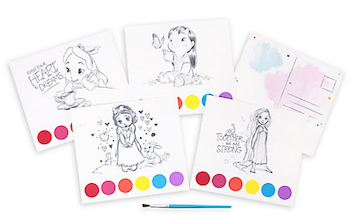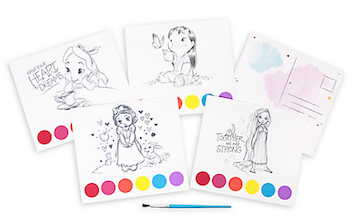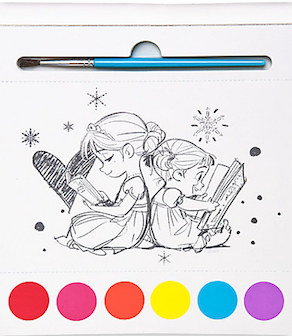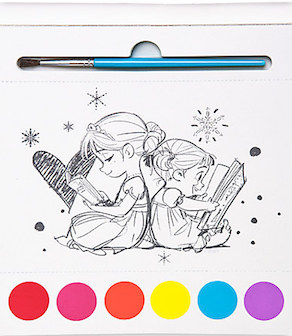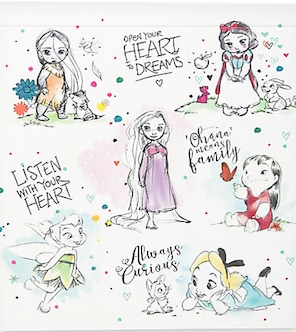 Fourteen individual postcards come in this set that makes a fun activity for kids to do on a cold winter's day. The set has one brush and each card includes six colors of paint.
Dip the brush in water and select the paint color. Kids can use their imaginations and design new colorful outfits for the characters or pretend they are animators at Disney and color in their favorite characters just like the pros. And when they are finished, they can stick on a stamp and send their art to grandma, or simply display it in their rooms.
The different cards are: 2 different Elsa and Anna cards, 3 Lilo cards, 1 Snow White card, 2 Tinker Bell cards, 2 Pocahontas cards, 3 Alice cards, and 2 Rapunzel cards.
Note: green is not one of the paint colors so you can use this lesson to teach your kids about colors. Simply mix the yellow with the blue to make Tinker Bell's dress and Scrump's body green. It's fun to play with colors.
The set lists for $10.95.
Animators' Collection Littles Micro Doll Play Set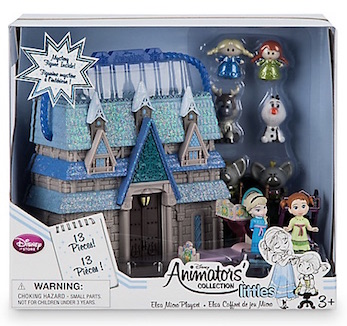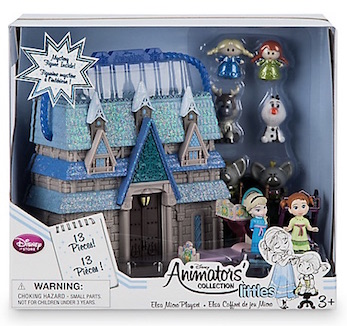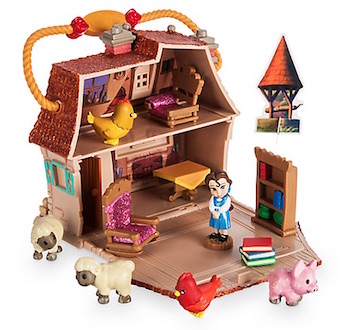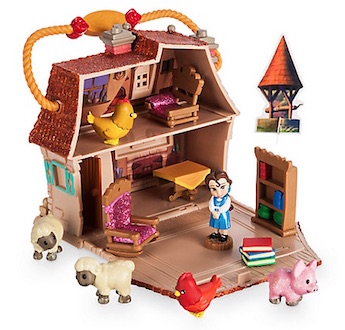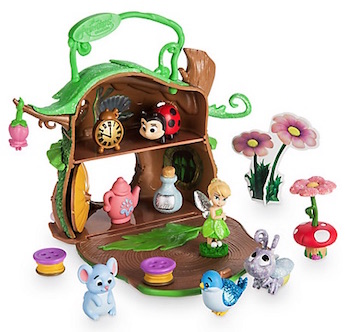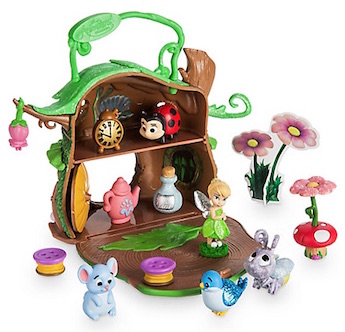 Talk about seriously cool. The new Micro Play Sets are just that. Each set comes with 13 pieces to set anyone's imagination on fire.
The different sets are: Frozen, Tinker Bell, and Belle. They each come with their own case, which doubles as the location for fun. For instance, the Frozen set is centered around Elsa and Anna's castle. Belle's cottage is where she resides, and Tink's little house is the case for her play set.
Open the castle, cottage, or house to see the interiors. Now, add the characters and their accessories and hours of fun are in store.
The Frozen set includes a small Elsa, Anna, Olaf, Sven, trolls, two beds, a dresser, 2 dolls, and a cardboard tree to add to the outside setting. Then, hold onto your hat, there is a mystery character. Who will you get? Marshmallow, Kristoff? Or someone else? The coolest part about these sets is that everything – and everyone – can be placed inside the castle or cottage or house, and closed. They each have a handle, which makes them great for toting to a play date, grandma's house, or anyplace.
The sets are for ages 3+ due to the size of the pieces. The Frozen castle is about 5 inches high and the Elsa figure is only 2 inches high, with the others measuring even smaller.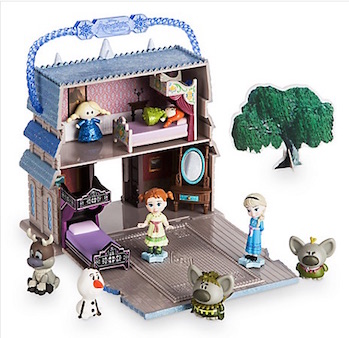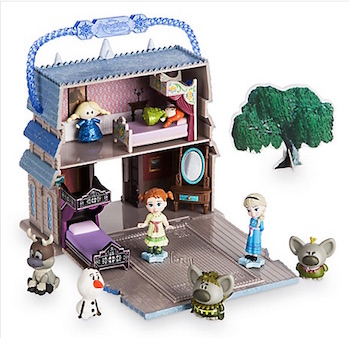 They each come with a mystery character that goes along with their story. The cardboard accessories add a little oomph to the setting of the case. Belle's is a well and Tink's are some flowers. The Frozen standup cardboard accessory is a tree.
When they are not in use, put all the pieces inside and click the case shut. Then the castle – or cottage or house – can be on display!
Each set lists for $19.95.
The Disney Animators' Collection is filled with the adorable and even angelic characters we have loved through the years. These newest products are entertaining, enjoyable, and delightful ways kids can play and experience their favorite characters in new and exciting ways.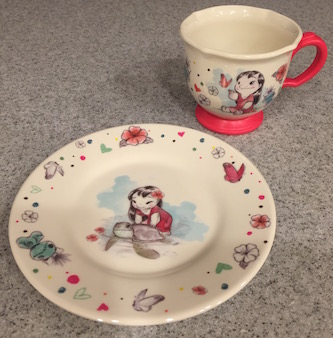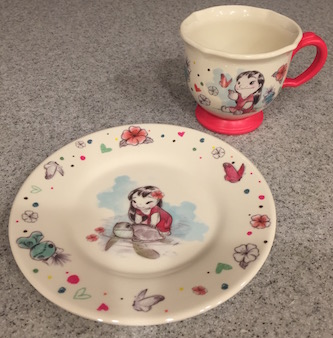 About the Author
Francine Brokaw has been covering all aspects of the entertainment industry for over 20 years. She also writes about products and travel. She has been published in national and international newspapers and magazines as well as Internet websites. She has written her own book, Beyond the Red Carpet The World of Entertainment Journalists, from Sourced Media Books.
Follow her on Twitter