Omni Air UV+ from Raycop – Product Review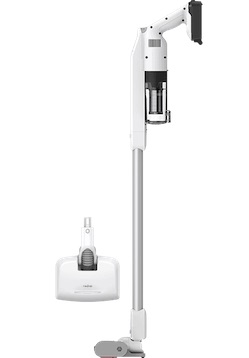 These days keeping our homes and ourselves safe from the COVID-19 virus is essential. The Omni Air UV+ stick vacuum from Raycop is a stick vacuum that sucks up dust, debris, hair, and invisible to the eye mites that can make us sick and bring on allergies, and also a sanitizer. With two different heads, this one unit cleans and sanitizes.
The Omni Air UV+ is lightweight and easy to operate. Just push the on button and select low, mid, or max, depending on which suction level you need. With the vacuum head attached the vacuum easily glides over floors and carpets. I personally like the small width because now I can vacuum beside and behind the toilets, which is something I couldn't do with other stick vacuums with wider heads.  This lightweight unit is like a sports car. It effortlessly maneuvers around corners and under furniture. It really does go almost everywhere. And the clear bin lets users know when it is full. Emptying the bin is easy. Granted, it is small but that is not a bad thing. It just takes a second to open the bin and dump out the debris. The dust box is connected to a dust filter and HEPA filter, which really help allergy sufferers like myself. I have always hated vacuuming because the debris would be blown up and around and it was always a test for my allergies. These new units eliminate the discomfort for allergy sufferers.
Attachments include nozzles to get in creases and crevices. Getting rid of dust, mites, pollen, and dirt is essential to allergy sufferers. But this unit not only vacuums up all those nasty things, it is also a sanitizer. The RayClean technology kills 99.9% of viruses and bacteria with the UV+ light. By destroying the DNA and RNA of viruses they are unable to live and multiply. Doing this without chemicals is important for families, especially those with babies and very young children. After all, parents do not want their children exposed to dangerous chemicals, or for that matter, they don't want to be exposed either. With this new technology, no chemicals are necessary. The UV+ light does the job safely and efficiently.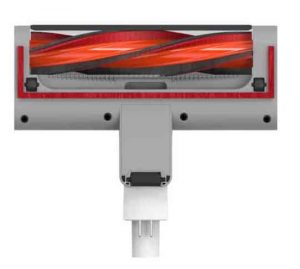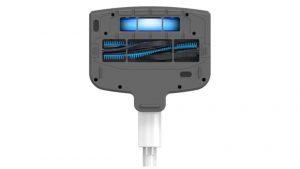 It is easy to change the heads from simply vacuuming to sucking up and disinfecting. Just pop off the one head and pop on the other. The brushes sweep up mites and other things trapped deep in fabric.
The filters are easily washable and prevent dust and odors from building up and staying in the unit. The battery is easily chargeable however this unit does not come with any attachments to stick it onto a wall. At first I thought this was a disadvantage however the unit is small enough to fit into a closet without taking up much space. Still, a wall mount might be a good idea for the future.
This unit can easily accomplish more than cleaning and disinfecting floors. It is a handy unit for cars and furniture. Think about where you have been during the day. When you get home you wash your hands and think you are free from viruses and bacteria. However you have probably been sitting someplace. Cleaning your couch and chairs is just as important as cleaning your floors. With this one unit, you can do it all. And it is also able to clean and disinfect your mattresses. Have you been sleeping with mites living and breeding in your mattress? How creepy is that?
Raycop was eager to send me a unit to test. I have been using it for a week and definitely think it is a worthy product. My only complaint, and it is a very small one, is that is lacks a wall mount. Other than that I really like this Omni Air. I like the weight and ease of use, as well as all it accomplishes. In this time of viruses like COVID and the flu, not to mention allergies (I have so many), I can highly recommend this for families of all ages and sizes.
There is free shipping from the website as well as a 30 day trial. Check out their website for more information and to order your own unit.
About the Reviewer
Francine Brokaw writes about products, books, travel, and entertainment. She has been published in national and international newspapers and magazines as well as Internet websites. She has written her own book, Beyond the Red Carpet The World of Entertainment Journalists, from Sourced Media Books, is the entertainment correspondent for Good Day Orange County, and has her own TV show, Beyond the Red Carpet, on Village Television in Orange County. Follow her on Twitter.