Save your memories quickly and easily with the Epson FastFoto Scanner and the MyPassport Ultra from Western Digital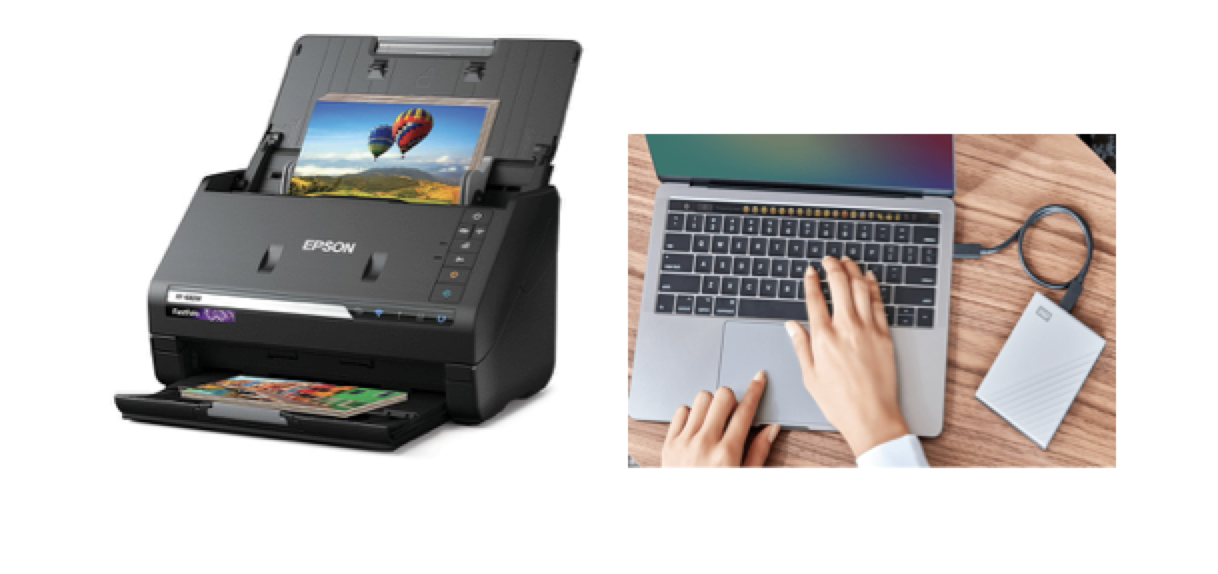 If you're like me you have a shelf full of photo albums. They take up space you can use for other things, like more sweaters perhaps? I had a stack of personal photo albums at least five feet high. And when my family moved and as the oldest generation passed away, those albums and boxes of photos from several generations added to my own. Who wants all of those photos taking up useful space in a closet or garage? Not me.
How do you do this safely, easily, and quickly?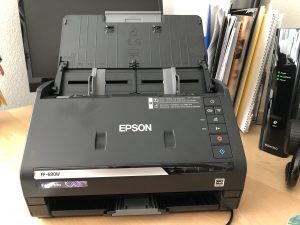 Part One
The FastFoto scanner from Epson was my saving grace. It is compact and took hardly any time to connect to my computer. That in itself isn't unusual because many scanners are the same way. But this one is very different. With the Epson FastFoto 680W, scanning the photos was a breeze. The unit connects to your computer via a USB cable or wirelessly.
This is the world's fastest photo scanner under $1000. And who wants to spend a lot of money for a photo scanner? Not me. This one lists for just under $500. And take it from me, it's worth it if you have a lot of photos and don't want to spend countless hours scanning each photo, one at a time.
The scanner is capable of scanning photos, newspaper articles, postcards, greeting cards, and papers up to 8 ½ inches wide. And it also scans Polaroid photos. So it was easy for me to take all the photos from four generations and scan them into my computer.The FF-680W also scans backs of photos, which was a plus because many photos from the past had dates and names written on the backs. And, let's face it, old photos are not the best quality so utilizing the enhancement option in the software also made the images look like new. Actually, they look better than new. The software gave me the option of keeping both the original scan as well as the enhanced scan. I chose to keep only the enhanced scans. With this software personalizing every scan is easy.
The software also allowed me to create a separate folder for each album or person. Simply place a stack of up to 36 photos in the feeder, select what to name them (person, date, place, etc.) and press the button. The scanner can scan a photo a second. Think about that! In all honesty, it took me longer to remove the photos from the pages of the albums than it did to scan them. And now sharing the photos is easy too. I emailed several photos to various members of the family so they could also have their copies of memories we have shared.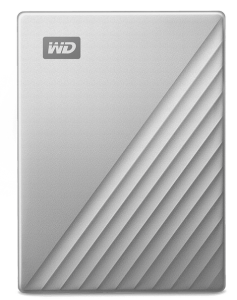 Part Two
So now that you have all your photos scanned into your computer, what do you do? First of all, I threw away the old albums and took all the photos to the shredder, except for a few I wanted to hold onto as hard copies. I have plenty of additional space in my closet now! But now all the photos are on my computer. What if something happened to the computer? I always like having backups, so I turned to Western Digital for that solution. I got the My Passport Ultra for Mac (they make them for PC as well). This compact hard drive easily connected to my computer for additional storage. The My Passport Ultra is thin, about 3" X 4 ¼", and lightweight. It is easy to transport from one place to another and plugs into a USB port.
Locating the scanned photos on my computer was easy. I then copied them onto the external WD hard drive. Voila. That was fast and now I have a backup of my photos. So the five feet tall stack of photo albums and the many boxes of single photos from three different houses are stored on my computer as well as an additional hard drive.
For some of the folders I added additional backups by copying them onto flash drives. This gives me the option of deleting them from my main computer and still having them on the My Passport Ultra hard drive as well as a backup flash drives. Copying them onto the My Passport Ultra was almost instantaneous. Copying them onto flash drives was more time consuming. The My Passport Ultra adds a second hard drive to your computer, and is detachable. You don't have to keep it connected to the computer either. Once you have your photos on it, you can unplug the drive and store it in a safe place.
The My Passport Ultra (for Mac) comes in three sizes: 2 TB, 4 TB, and 5 TB. A terabyte is over a thousand gigabytes, over a million megabytes and one trillion bytes. The drive can be password protected if you desire.
Part three
There is no part three because the job is done! With the Epson FF-680W and the Western Digital My Passport, all the photos are digitized, stored, and backed up for safety on portable drives. Many people also like the idea of backing up their photos and music to the cloud, which makes a great third backup.
This is the fastest and easiest way to preserve photos, newspaper clippings, and all your personal memories. I owe a great big "thank you" to the folks at Epson and Western Digital.
For more information about the Epson FF-680W click here.
For more information about the Western Digital My Passport Ultra click here.
To see the speed of the scanner, click below:
About the Reviewer
Francine Brokaw writes about products, books, travel, and entertainment. She has been published in national and international newspapers and magazines as well as Internet websites. She has written her own book, Beyond the Red Carpet The World of Entertainment Journalists, from Sourced Media Books, is the entertainment correspondent for Good Day Orange County, and has her own TV show, Beyond the Red Carpet, on Village Television in Orange County. Follow her on Twitter.